Radiology Graduation 2020
The UMass Chan Medical School Radiology Residency & Fellowship Programs. Class of 2020 Graduation Ceremony took place on June 10, 2020. Due to the safety restrictions for the Covid-19 pandemic the graduation took place via Zoom. Carolynn DeBenedectis, MD, Radiology Vice Chair of Education, hosted the event and Department Chair, Max Rosen, MD, MPH, offered opening and closing remarks. Dr. DeBenedectis presented the graduating Residents and the Fellows were honored by program directors or faculty within their divisions. Fellowship Director, Gopal Vijayaraghavan, MD, introduced the Fellows and offered some special insights about these times. Congratulations Radiology Residents, Fellows and Faculty!
Special Awards
Tina Shiang, MD – RSNA Resident Roentgen Research Award
Alex Pavidapha, MD and David Radcliffe, MD – The Jerry Balikian "Extra Mile" Award
Byron Chen, MD – Teacher of the Year Award
The graduation celebration was recorded and can be viewed on the link below. A gallery of screen captures can be found at the bottom of the page for a quick review.
UMMS Radiology Graduation - June 10, 2020 from UMass Chan Medical School Radiology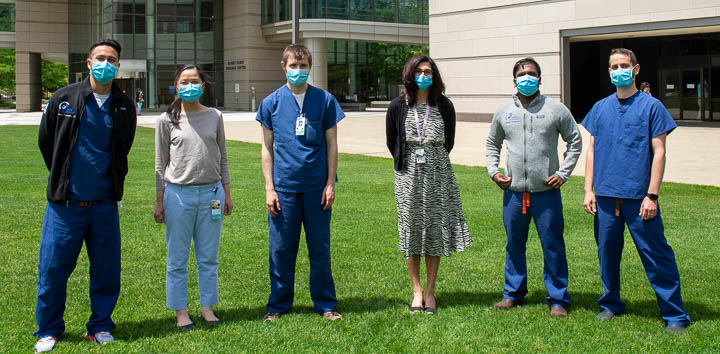 Radiology Residency Graduates
Venkatesh Murugan, MBBS
VIR Fellowship, UMass Chan Medical School

Alex Pavidapha, MD
VIR Fellowship, UMass Chan Medical School

David Radcliffe, MD
MSK Fellowship, UMass Chan Medical School

Evan Ruppell, DO
Oncologic Imaging Fellowship, Dana Farber Cancer Center, Boston, MA

Van Vu, MD
Diagnostic Neuroradiology Fellowship, Stanford University Hospital, Stanford, CA
Graduates from Radiology Fellowship Programs
Ahmed Sobieh, MBChB, PhD, Abdominal Imaging Fellow
MRI Fellowship Program (UMMS)

Anushree Agrawal, MD, Breast Imaging Fellow
Breast Imaging Faculty (UMMHC) 9/30/20
Alexander Stetsyuk, MD, MRI Fellow
X-Ray Professional Association (Concord, NH)
Ashwini Kulkarni, MBBS, MD, Musculoskeletal Imaging Fellow
Neuroradiology Fellowship Program (UMMS)
Anna Kuhn, MD, PhD, Interventional Neuroradiology Fellow
Baystate (Springfield, MA)
Krishna Iyer, MD, Neuroradiology Fellow
Morton Hospital (Taunton, MA)
Matthew Kona, MD, Neuroradiology Fellow
VA Medical Center (Richmond, VA)
Mani Razmjoo, MD, Vascular Interventional Radiology Fellow
Baystate (Springfield, MA)
Vivek Pargaonkar, MBBS, Emergency Radiology Fellow
Emergency Radiology Faculty (UMMHC)