New Digital Portable Xray Machines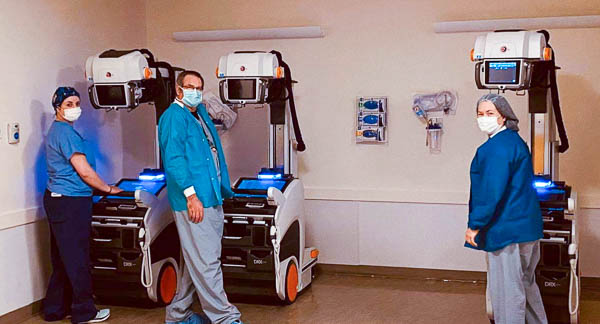 The Diagnostic Radiology Technologists put to work four new Carestream Digital Portable Xray units during the surge of Covid-19 patients over the last four months. Deb Pellegrino, Diagnostic Lead on the University Campus called the new units a "lifesaver." The units were used to x-ray nearly every Covid-19 and trauma patient as well as the rest of the portable exams. The digital capabilities allowed the images to be viewed while still on the floor and uploaded directly to the PACs system. Thus, saving time, allowing for immediate repeated imaging when necessary while providing better patient care and less donning and doffing full PPE. The older analog units required techs to leave the floors to process the images and the physical aspect of carrying the CR plates.
The digital units are utilized in the ERs, ICUs, Surgery, and on the floors allowing easier and safer access to patients. The technologists enter patient care areas wearing full PPE, often two techs are needed to help position patients and capture the images, ideally a third "clean" tech remains outside the contaminated area and will clean the portable unit before moving to the next patient, while the "dirty" techs doff their PPE.
In a normal month the portable units are utilized for 2,000 plus xrays. During the Covid-19 surge of 3,000 a month the portable units were a necessity for access to patients, prevent the spread of infection, and assist with staff safety. The use of the digital units amplified the benefits tremendously by improving image quality and cutting the exam turn-a-around time in half.
The Radiology Technologists were frontline workers during this pandemic. The Diagnostic Technologists traveled everywhere in the hospital. Staff joined from other areas and sites that were less busy due to the decrease in outpatient appointments. Deb Pellegrino stated that the techs from Hahnemann and the ACC that were redeployed were a huge help. It was almost a wartime effort and everyone pulled together. They worked hard, went home physically and mentally drained and returned to work to help their team mates and patients during another day. Well done Radiology Super Heroes!!
Thank you for your service!