Lela Giannaris and Manas Das Outstanding Medical Educators
Congratulations Drs. Lela Giannaris and Manas Das! The Class of 2022 has chosen you to receive an Outstanding Medical Educator Award!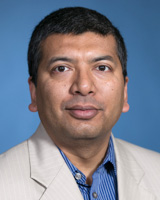 "Given our celebration in light of our COVID Pandemic and since the Educational Recognition awards were not held in April, the Class of 2022 will recognize two Outstanding Medical Educators." This Award is being presented to Lela Giannaris, PhD and Manas Das, MD whom the Class recognized as consistently going 'above and beyond' in the teaching of the basic science curriculum. The outgoing SBC Co-Presidents presented these awards during the Virtual Transition to CCE Event on May 28, 2020, via Zoom. The Transition Ceremony celebrates the transition of the rising 3rd year class, about to start on their clinical rotations. The event was highlighted with music by students, along with faculty, student and resident speakers. Over 180 people logged in for the event.
Manas Das, MD and Eustathia Lela Giannaris, PhD are co-directors of the Development Structure and Function (DSF) course for first year medical students and members of the Translational Anatomy Division in the Department of Radiology.