Page Menu
Michael A King, PhD - Research Award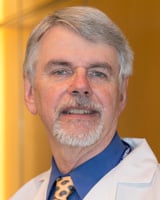 In 2021 the department of radiology created the Michael A. King, PhD Research Award in honor of Professor Michael King who joined UMASS Department of Radiology in 1979 and has been continuously funded by the NIH for more than 3 decades. He is honored with two prestigious Edward J Hoffman Awards, one from the from the Nuclear Plasma Sciences Society in 2015 and another from the Society of Nuclear Medicine and Molecular Imaging in 2006, of which Professor King is also a Fellow. Dr. King has more than 150 peer-reviewed publications and made tremendous contributions to the field of nuclear medicine to improve sensitivity and specificity in diagnosis whilst reducing patient dose.
The Michael A. King PhD Award is awarded annually at graduation to a trainee (medical student, doctoral candidate, resident, fellow, or post-doctoral fellow) who exemplifies (but do not have to meet all) the following characteristics demonstrating excellence in research:
High impact peer-reviewed publications, including conference proceedings
Securing extramural funding
Conducting research that changes paradigms
The recipient can be nominated by the faculty or can self-nominate. The final winner will be selected from the nominees by the education committee. To nominate someone (or self-nominate) a CV for the nominee and a 250 maximum statement of why the person is being nominated should be sent to the Vice Chair for Education (Carolynn DeBenedectis, MD).
Award Honorees
2023 Christopher Zoppo (UMass Chan Medical Student)
2022 Zeynep Vardar, MD
2021 Robert M. King, PhD