Page Menu
Diversity and Inclusion
The Department of Radiology at the University of Massachusetts embraces and welcomes a diverse community of faculty, fellows, residents, staff, and patients. Diversity and Inclusion are very important to us. Many of our radiology faculty participate in diversity and inclusion activities both within the medical school and the department. The Department of Radiology will continue to partner with UMass Chan Medical School, Office of Diversity and Inclusion, strengthening diversity and inclusion in our department. Our Chairman, Dr. Max Rosen, was awarded the Chancellors Award for Diversity. Dr. Carolynn DeBenedectis, the radiology residency program director, serves at the co-chair of the Association of Program Directors in Radiology's Diversity and Inclusion committee. Office of Diversity and Inclusion

Women in Radiology Panel
In order to expose women to radiology as a sub-specialty choice and to expose them to female role models in the field, a woman in radiology panel is held in the fall of every year through the Radiology Interest Group and the Department of Radiology. Several female attending radiologists and radiology residents sit on the panel and talk to medical students of all levels about why they choose radiology and about their day to day job, as well as answer questions from the medical students about the field of radiology.
Transgender Issues in Healthcare

Yasmin Carter, PhD is currently working on the Transgender Healthcare Stories and Experiences Archives (THESA). The project aims to address health disparities in the transgender population by increasing awareness of unique difficulties transgender individuals face and promoting cultural competency for trans* issues in medicine. There is growing interest in the central role of the patient's experience in healthcare; and it has been demonstrated that first person narratives promote empathy and awareness. The long-term goal of this project is to utilize storytelling and narratives to assist in graduating physicians who are trans-positive, informed, and comfortable in caring for the trans* community. Additionally, this archive may be useful as an experience affirming tool for transgender people who feel alone in their experiences with the medical profession. Dr. Carter also offers a flexible clinical experience for medical students on transgender issues in healthcare.
Emerging Professionals Summer Internship Program for College Students (EPSIP)
The Emerging Professionals Summer Internship Program (EPSIP) is a ten-week paid internship experience for talented underrepresented minority college students. Program begins generally in May and ends in August of each year. This "pipeline" program is designed to provide students with the opportunity to explore potential administrative careers in an academic health science center. This is an exciting opportunity for individuals seeking to apply their skills in a team setting that is dedicated to advancing the health and well-being of the people in Massachusetts and the world through ground-breaking development in education, research, and health care delivery. UMass Chan Medical School is a group of professionals serving the public interest within a flexible, challenging environment built on innovation.
Dr. Chris Cerniglia, from the Musculoskeletal Radiology division, serves as a mentor for this program. Learn more about EPSIP.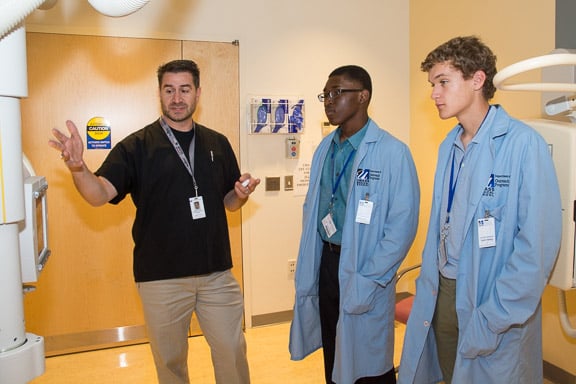 Baccalaureate MD Pathway Program
The UMass Baccalaureate MD (BaccMD) Program is a multiphase program that provides selected students from the UMass undergraduate campuses with the opportunity of provisional acceptance into UMass Chan Medical School. Students who are from racial or ethnic groups underrepresented in medicine nationally and in Massachusetts, who come from economically disadvantaged backgrounds or are First Generation College graduates are eligible to apply to the BaccMD program. Students apply to become Medical Scholars, the first phase of the program in the sophomore year. The program offers students to a broad range of academic and clinical immersion opportunities, including book clubs, academic and clinical immersion interaction with physicians and medical students, observations at clinical sites at UMass Memorial Medical Center. These experiences help Medical Scholars develop insight into what is involved in the life of a medical student and health care provider. The selection of applicants to the Medical Scholars Program contributes to the T.H. Chan School of Medicine's diversity goals and educational mission that the student body will be contributing members to a diverse health care work force serving the needs of the commonwealth and the nation, with a focus on primary care and undeserved communities.
Dr. Carolynn DeBenedectis, from the Breast Imaging Division, serves on the BaccMD admissions committee and as a mock interviewer for the program. Learn more about BaccMD.
Health Sciences Preparatory Program
The Health Sciences Preparatory Program (HSPP) has two specific goals:
Enhance student diversity in professional health sciences.
Enhance the educational preparedness of students for participation in health sciences programs.
This program contributes to these goals by providing a curriculum in which each student is taught principles that are foundational to professional health sciences programs in medicine, nursing or biomedical research. The HSPP comprises a year-long curriculum and training experience that combines instruction in the core academic subjects of biochemistry, physiology and epidemiology/ biostatistics together with courses focused on professional skills development.
The result is a cadre of students who are well grounded in disciplines considered essential for competitive admission into and long-term success in professional health sciences programs. The HSPP is designed as a pre-matriculation program for enrollment in the T.H. Chan School of Medicine, but classes are also available to those interested in preparation for enrollment in the Morningside Graduate School of Biomedical Sciences or the Tan Chingfen Graduate School of Nursing.
Dr. Carolynn DeBenedectis, from the Breast Imaging Division, serves on the HSPP admissions committee, as an interviewer for the program and as a mentor for the program. Learn more about HSPP.
UMass Chan Efforts to Increase Diversity
UMass Chan has increased institutional efforts to increase diversity at all levels as well as enhanced efforts to ensure a bias-free learning environment:
DRIVE Initiative: (Diversity, Representation, and Inclusion for Value in Education). This collaborative promotes a representative and bias-free curriculum across all learning environments and enhances the accuracy, representation, and inclusion of diverse populations in educational activities.
Increase in education across the organization regarding our LGBTQ members and patients, focusing on easily accessible UMass Celebrates Pride events and programming as well as education around challenges to health care for LGBTQ communities.
Integrate Implicit Bias training/Anti-Racism training into our community and culture
UMass Chan is currently in the process of hiring a new Vice Chancellor for Diversity and Inclusion (previous person recently retired)
UMass Chan has created a new position, Vice Provost for Health Equity, who will devote 50% of their time co-leading a Diversity Faculty Hiring Task Force. This task force will work with individual department chairs on faculty hiring and retention efforts as well as efforts with diverse residents to expand the faculty pool
Holistic review of residency applications: we have formed a task force of the GMEC to design a template that programs can use for holistic review of applications to try to help increase the diversity of our GME programs. We are also planning to have all application reviewers and interviews undergo Implicit Bias training
The Campus provost is holding "First Friday Listening Sessions" for all students and learners on campus, including GME trainees. The purpose of these sessions is for learners to share their thoughts, ideas and feedback so that our institutional leadership understands the pressing issues that our learners face.