Page Menu
The ACGME-accredited Abdominal Radiology fellowship at UMass Memorial Medical Center/ UMass Chan Medical School is a one-year comprehensive fellowship in abdominal imaging using all modalities of US, CT, MR, PET CT and fluoroscopy.
UMass Memorial Health Care is the major hospital system in Central Massachusetts. UMass Memorial Medical Center, consisting of two teaching hospitals and three community hospitals, serves a large and diverse population base, functions as a Level 1 Adult and Pediatric Trauma Center as well as high volume tertiary care referral center.
UMass Chan Medical School trains 600 residents and fellows in 57 accredited programs from anesthesiology to vascular surgery. Patient Centric Medicine is delivered seamlessly with dedicated programs within the Cancer, Diabetes, Heart and Vascular, and Musculoskeletal Centers of Excellence. These centers offer an experienced team approach to specialized treatment, advanced therapies, and breakthrough clinical trials. Radiology is vested in all these centers of excellence and our fellows and residents will rotate through each clinical division in a team-based system.
In abdominal imaging, through the varied case mix of oncology, organ transplant, gastroenterology, urology and interventions, the fellow will gain valuable teaching and hands on clinical experience throughout the one year of training.
The abdominal division performs over 20,000 Ultrasound, 3,000 MRI, 20,000 CT scans, and 1700 image guided procedures per year.
Positions Available: 2
Length of Fellowship: 12 months
ACGME: Yes
NRMP: No
Application Dates: Begin accepting 2025-26 applications: November 1, 2023
Interview Dates: January through March
https://abdominalradiology.org/sar-subpages/fellowship-timeline/
* We are no longer accepting applications for the 2024-2025 academic year.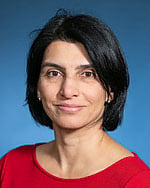 Tasneem Lalani, MD
Program Director
Abdominal Imaging Fellowship