Steven Baccei- My Experience When COVID-19 Arrived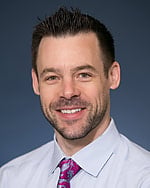 For me, it seems like it all started on the afternoon of March 12, a Thursday, with calls and emails from my children's elementary school late that morning. All the school children were being emergently dismissed to home for possible exposure to COVID-19 from one of the students. That's when it all sunk in and hopes that we could get through COVID-19 unscathed faded.
Here at UMass, as both the vice-chair for quality and safety in radiology and one of the Associate Chief Medical Officers, I knew that we were about to embark on major changes throughout our medical center and healthcare system. Preparing for and living through COVID-19 would involve tremendous hard work, teamwork, sacrifice, and emotions by all our caregivers. This would be a difficult road for both patients and providers, but, it became a journey where, I think, the best within people emerged.
In my role as associate chief medical officer, I was asked to help with a variety of efforts. These urgent, COVID-19 related initiatives at first included helping lead the N95 mask fit testing effort for the pandemic, enhancing communication with physician leadership, decedent related issues, and helping the team who develops the group talk newsletter (to move publication from monthly to bi-weekly). Soon after, with the chief medical officer, Dr. Andrew Karson, leading the COVID-19 response for the medical center, I assumed most of the non- COVID-19 related activities that the chief medical officer would normally perform. These included reviewing and approving hundreds of temporary credentials for providers helping with the COVID-19 response, assisting with the transition of the early graduating 4th year medical students to early interns, and being available to work with various providers on care issues arising throughout the medical center in real time.
As the vice chair of quality and patient safety in radiology, like all of you, I watched as our routine imaging volume rapidly plummeted. Radiology volume was soon far below our staffing levels and many radiologists (and support staff) were idle on a day to day basis. But, like the medical center, staffing levels were maintained throughout the pandemic by leadership and no staff were furloughed, moved to part time, or laid-off; which among other things kept morale strong. We moved to weekly radiology faculty conferences that served to keep information exchange optimized at a time when most of us were physically distant. Radiologists and support staff quickly learned about personal protective equipment and how to safely care for many patients who were on respiratory precautions. Eventually, the pandemic began to improve and adjusting to the new normal started. A new normal that now includes new experience with remote diagnosis and teaching and a radiology department where soon over half of radiologists will have home workstations.
It turned out that the possible exposure for the school children was a student with the flu. But, that was the last day the kids would see their school friends in person. Having worked remotely for most the pandemic, I walked back into University campus a few days ago for the first time since mid-March. A different place now in many ways, I first felt sorrow about how much had changed and wished that COVID-19 never was. As the day went on though, as I spoke with colleagues and passed others in the halls, saw patients on their way to receiving care I felt optimistic that despite all the struggle and sadness brought about by COVID-19, we had persevered. We have learned so much about ourselves and each other and what's important for our patients and us. As healthcare providers, we have renewed confidence that no matter what the struggle, we will pull together as a team and do what it takes to continue caring for our patients in a way that everyone can be proud of.
-Steve
Steven J. Baccei MD
Associate Professor, Radiology
Vice-Chair of Radiology Quality, Patient Safety, and Process Improvement
Department of Radiology UMass Memorial Medical Center and University of Massachusetts Medical School
Associate Chief Medical Officer, UMMMC