Page Menu
The Division of Emergency Radiology services more than 250,000 patients per year across five emergency departments in Central Massachusetts, including the region's only Level 1 Trauma Center and Advanced Comprehensive Stroke Center. The division is equipped with state-of-the-art imaging equipment, including 128-detector CT, 1.5T MR scanner, ultrasound, digital radiography and nuclear medicine. All examinations are interpreted using AGFA PACS, PowerScribe 360, TeraRecon post-processing software and EPIC EHR. Artificial intelligence (AI) solutions are integrated seamlessly into routine workflow. The successful fellow candidate will become an integral member of the Division of Emergency Radiology and will be actively involved in all components of emergency imaging: clinical consultation, protocol prescription, image interpretation and patient management recommendation.
Positions Available: 1
Length of Fellowship: 12 months
ACGME: No
NRMP: No
Application Dates: Begin accepting 2025 applications: November 1, 2023
Interview Dates: January through March
* We are also accepting applications for 2024-2025 academic year.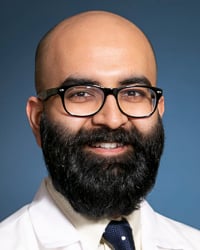 Hemang Kotecha, DO
Program Director
Emergency Radiology Fellowship