Shark Tank Idea Competition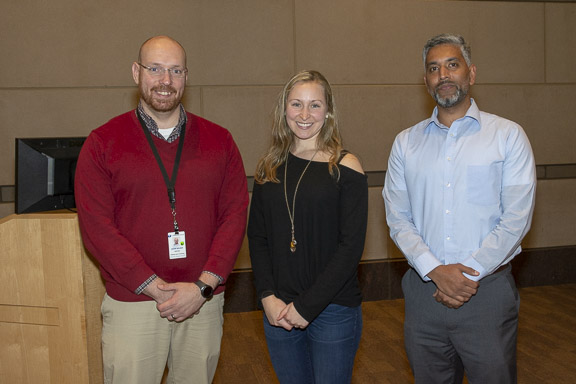 Six Shark Tank projects were presented on Monday evening, January 28, 2019. The individuals/teams have been working on their projects for months, and this was the date of the final presentations. Posters were printed and on display, presentations were polished, not only were there benefits for the department but money was on the line. The four judges were from outside the Radiology Department. After the presentations were completed and evaluated, the judges awarded First Place and $1,500 to Elizabeth Tollkuci and her project Improving the Quality of Care Delivered to Patients with Cognitive Deficits. Second Place and $500 was awarded to Jason Wilder, Lisa Levins and Mohammed Siddiqui for their project Reducing No-Show Rate for Radiology Ultrasound & CT Scan. Links to the posters are in the table below.
The Masters of Ceremony for the event were Tim Clark and Kevin Reynolds. Before the presentations Nick Comeau lead everyone through a fun and interesting, learning exercise - Personality Poker.
Background
In an effort to improve employee engagement, and tap the resources/knowledge of our front line staff in Radiology, Tim Clark and Kevin Reynolds initiated the Shark Tank theme "contest." The idea was to receive funding through the UMass Memorial Innovation Fund to reward the winners with a cash prize that could be used towards celebrating their successes or to be put towards future improvements. The Radiology Quality team would guide the teams through the LEAN/A3 Thinking process to reinforce lean principles through a hands on experience. Not only would the teams be learning as they go, but they would get an opportunity to implement something they are passionate about. All of the ideas were related to improving patient care in some form.
We hope that by continuing this method of process improvement, our staff will remain engaged and encourage others to bring their great ideas forward.
Judges:
Sherri Gentile – Organization & People Development (HR)
Lora Dumas – Center for Innovation and Trasnformational Change (CITC)
Nick Comeau – Center for Innovation and Trasnformational Change (CITC)
Alison Lemay – AVP, Patient & Family EXP
Projects and Contestants:
Project Titles/Posters

Contestants

Dementia Patients
(1st Place)

Elizabeth Tollkuci

No-Show Improvement
(2nd Place)

Jason Wilder, Lisa Levins, Mohammed Siddiqui

Ioanna Brunnett

Christina Gray, Elise Weber

Robin West

Donna St. Clair, Tara Menard, Nagham Rida
Special Thanks
Special thanks to the Innovation Fund for approving our request to sponsor the prizes for this game.
Special thanks to Kathy Green for her support throughout the entire process and for the dinner that was served to our contestants
Special thanks to Vilma Merkelis to working tirelessly to helping us get this event coordinated and set up. We couldn't have done it without you!