We're Hiring — Come Join Our Team!
Date Posted: Monday, September 18, 2023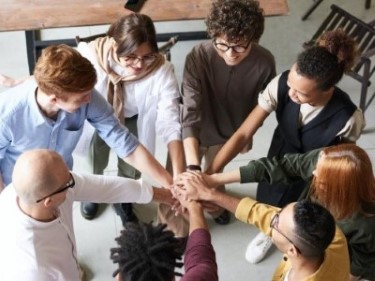 Do you have a passion for mental health?
Are you looking to grow your career in an academic research setting?
If the answer is yes, then check out all of the great employment opportunities (hybrid eligible) we have within iSPARC and our research centers. Consider applying today or share with someone you know who would be interested!
The iSPARC (Implementation Science and Practice Advances Research Center) is a part of the UMass Chan Medical School's Department of Psychiatry.
We are a Massachusetts Department of Mental Health (DMH) Center of Excellence for Public Mental Health Services and Implementation Research that aims to improve the mental and behavioral health of all citizens of Massachusetts and beyond. iSPARC is committed to transferring knowledge and insights gained through rigorous research to improve the lives of people with lived mental health experience.
We conduct Participatory Action Research, an all-inclusive approach that ensures that every aspect of our research incorporates the voices of those with lived mental health experience.
Current Opportunities Include:
iSPARC
The Implementation Specialist is a full-time leadership role that will direct our Implementation Science Practice Program following the guidance of the Faculty Program Co-Chairs at iSPARC. The Implementation Specialist is responsible for the implementation of projects, promoting change in state service systems and other partner programs, and identification and marketing of faculty trainings and technical assistance programs to key stakeholders (e.g., mental health provider agencies).
The ideal candidate will have a master's degree in Public Health, the Social Sciences (e.g., Psychology), Education, or a related field. Along with 10+ post-degree years of experience working across large public systems and managing large projects and. Hours are flexible and the candidate can work remotely.
KT Undergraduate Internship for course credit. This internship position will work with the Social Media Specialist and Communication Specialist on the iSPARC Communications team to plan, create, and implement our social media strategy. The internship is for the 2023/24 school year (either fall or spring semester) and may be fully remote or hybrid.
Transitions Adulthood Center for Research
The Clinical Research Coordinator II is a full-time role that will be primarily focused on the EA-Avatar project, which is a partnership among PI Lourah Kelly, Ph.D., iSPARC's Young Adult Advisory Board, a programming team, and clinical and emergency department experts. The current research project designs and evaluates a novel avatar-guided intervention for young adults with alcohol use problems and suicidal thoughts who are seen in the emergency department.
The ideal candidate will have an interest in participatory research with transition-aged youth (16-25-year-olds) with co-occurring mental health and alcohol use problems and be comfortable in the recruitment and assessments for research studies within the emergency department.
We strongly encourage candidates who increase the field's depth in research that addresses the needs of underserved racial or ethnic groups. As an equal opportunity and affirmative action employer, UMass Chan Medical School recognizes the power of a diverse community and encourages applications from individuals with varied experiences, perspectives, and backgrounds.