Page Menu
Annual Massachusetts Department of Mental Health Research Centers of Excellence Conference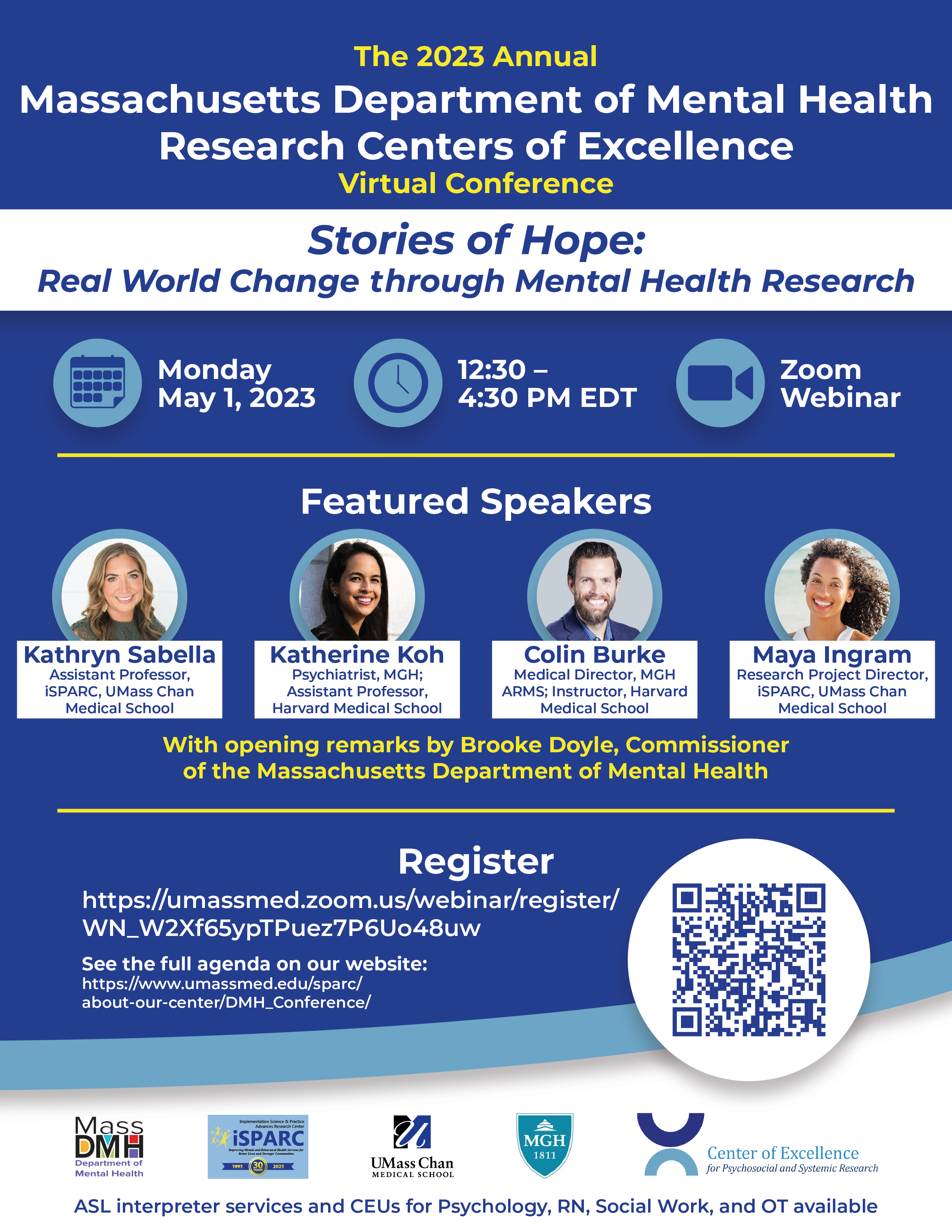 The 2023 Annual Massachusetts Department of Mental Health Research Centers of Excellence Conference "Stories of Hope: Real World Change Through Mental Health Research" took place on May 1, 2023.

Hosted by: UMass Chan Medical School Implementation Science & Practice Advances Research Center (iSPARC) and Massachusetts General Hospital Center of Excellence (COE) for Psychosocial and Systemic Research
About: DMH funded two new centers of research excellence in October 2018. The goal of the conference is for DMH clients, their family members, DMH staff, and providers to learn more about the work these two centers are doing, and for these centers to learn how their research can best support DMH, and its mission and the people served by DMH. The conference emphasized stakeholder-engaged research, including the importance of engaging persons living with mental health challenges, their family members, and the providers and staff who serve them in all phases of the research process.
---
2023 CoE Conference Agenda
Opening Remarks & Introduction to the New Community Behavioral Health Centers
— Brooke Doyle, Commissioner of the Massachusetts Dept. of Mental Health
Highlights of iSPARC 30th Anniversary and longevity & 100th Anniversary of the psychology internship program and MGH recent growth in the Department of Psychiatry's research budget
— Maryann Davis, Director of iSPARC and Cori Cather, Director of MGH COE
Expanding the Reach of bryt, an Innovative Model to Support Students Who Have Experienced a Mental Health Disruption
— Kathyrn Sabella, Assistant Professor, UMass Chan, and Deputy Director of Transitions to Adulthood Center for Research
Homelessness Across the Lifespan: Clinical Approaches, Prediction, and Prevention
— Katherine Koh, Assistant Professor MGH and Colin Burke Instructor, MGH
Lived Experience Experts: The Value of Qualified Research Advisors
— Maya Ingram, Research Project Director, iSPARC
CEUs for Psychology, RN, Social Work, OT, and LMHC were available.
Click here to complete the post-conference survey and CEU form