Byron Chen Honored as Teacher of the Year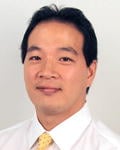 The Radiology Residents canvas amongst themselves each year to select the Radiology Teacher of the Year. During the graduation ceremony this year the residents honored Byron Chen, MD, Associate Division Chief of Emergency Radiology, as Teacher of the Year! The residents describe Dr. Chen as more than deserving beyond his excellent didactics, morning ED conferencing and instruction by the work stations. They found him always ready to teach, has a positive attitude and all have learned a lot from him.
Congratulations Byron Chen!