New Residency Coordinator
Date Posted: Monday, February 01, 2016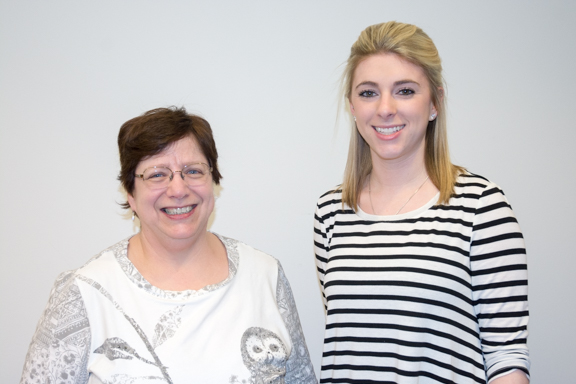 Kathy Delongchamp, Fellowship Coordinator and Gabi Carbone, Residency Coordinator
With the radiology residency interview season coming to an end and the Match coming up this February, it seems like the perfect time to thank Kathy Delongchamp for acting as the Interim Radiology Residency Coordinator and to welcome Gabrielle Carbone as the new Coordinator. After Sandra Costa announced her retirement, Kathy took on those responsibilities along with her own job as Fellowship Coordinator, and did so flawlessly. Then in November, Gabi, our former Communications Project Coordinator accepted the official Residency Coordinator position.
As the Radiology Residency Coordinator Gabi will provide administrative support to Dr. Joseph Makris -Residency Program Director, the Chief Residents, and act as an educational coordinator between the attendings, residents, medical students and administrative offices. Gabi feels that after being here for a year previously, her transition into this new position was easier than most because she was already so familiar with the "ins and outs" of the Department. She is looking forward to this new challenge and hopes to be here for many, many years.
Now that Gabi has moved onto the Residency Program, Charlene Baron who joined the Department back in April with the rest of the Anatomy Division, has added Communications Project Coordinator to her other two titles as BioMedical Photographer and Instructional Technologist. She is now responsible for the RadNews newsletter and the UMass Radiology website.