Ryan Tai Receives Society of Skeletal Radiology Research Award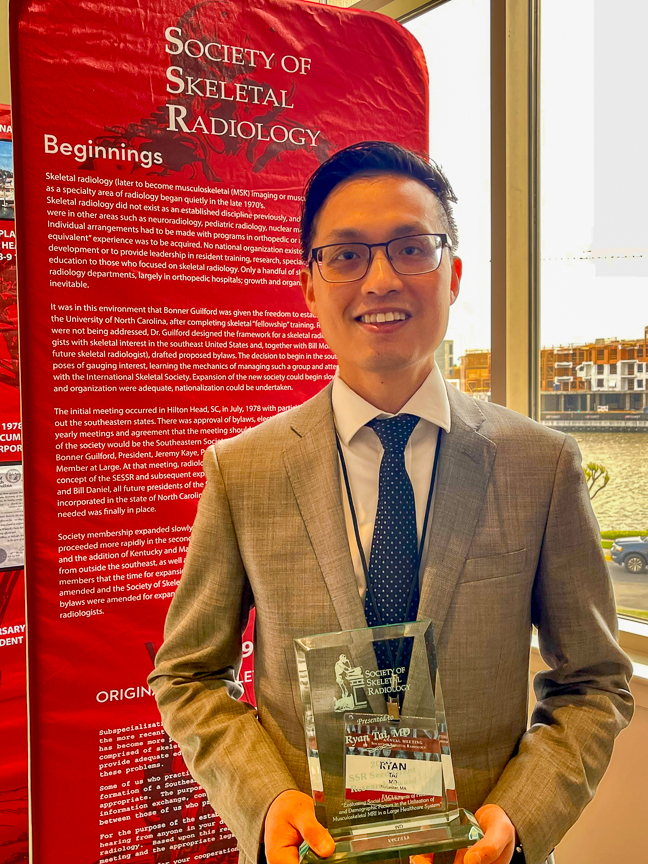 During the 46th Annual Society of Skeletal Radiology Conference in Savannah, Georgia, Ryan Tai, MD presented his project on "Evaluating Social Determinants of Health and Demographic Factors in the Utilization of Musculoskeletal MRI in a Large Healthcare System", which received the 2022 Society of Skeletal Radiology Seed Grant Research Award. This project aims to uncover healthcare disparities in the utilization of musculoskeletal MRIs among the diverse populations in Central Massachusetts. Our project demonstrated that there is a trend of decreased musculoskeletal MRI utilization among disadvantaged zip codes in the Central Massachusetts area stratified by various social determinants of health. Hopefully, the results of this exploratory study will generate more interest and attention in further research on healthcare disparities in the field of musculoskeletal radiology.
Ryan Tai, MD, Assistant Professor in Radiology, Associate Division Chief Musculoskeletal Imaging and Program Director, Musculoskeletal Imaging Fellowship.