Ajit Puri Featured in UMMH's The Pursuit Magazine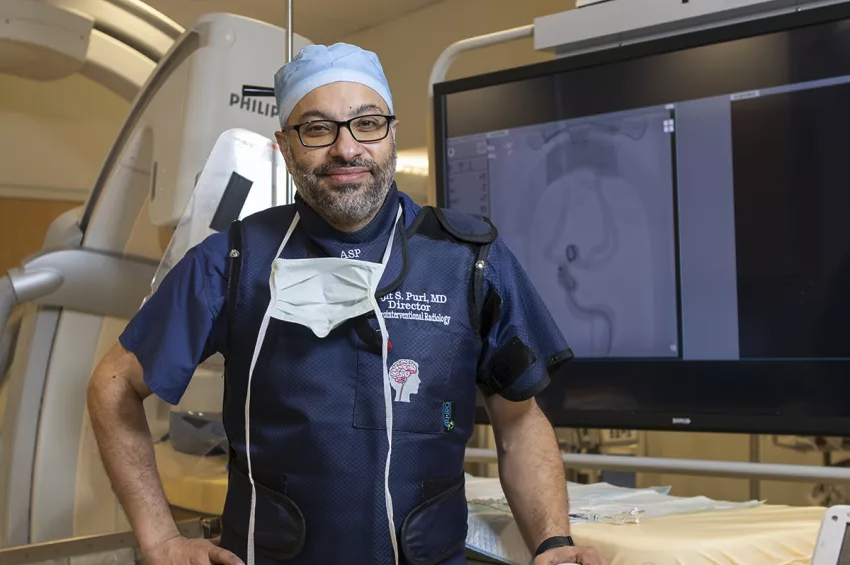 Advanced Treatment for Stroke and Brain Aneurysm Patients Provides Vital Care
UMass Memorial Health's new streamlined admission process combined with the most advanced treatment available delivers groundbreaking care for stroke and brain aneurysm patients.
Excerpt from March 13, 2023 article:
DIRECT ACCESS FOR EMERGENCIES
About 87 percent of all strokes are ischemic strokes, which occur when a clot blocks an artery in the brain. "We know that for each minute our brain is not getting blood, we lose two million neurons," Puri said. "That's why we say, 'time is brain' when dealing with stroke, and getting patients treated as soon as possible is the absolute goal."
Puri said the most time-sensitive intervention he does is a mechanical thrombectomy for ischemic strokes – a minimally invasive procedure that removes the clot from the brain. UMass Memorial is one of the busiest centers for stroke thrombectomy on the east coast, with patients supported by comprehensive pre- and post-procedure care.
The medical center has two technologically advanced neurointerventional radiology suites built specifically for minimally invasive neurological procedures. These suites are equipped with the latest imaging technology, including bi-plane suites that allow the neurointerventional radiologist to work with two views simultaneously. The suites also can produce high resolution three-dimensional images to guide procedures in vessels of the brain.
For many years, patients beyond the city of Worcester who were stricken at home or in the community were first taken to the nearest community hospital for evaluation. Then, if necessary, they would be transported to the emergency department at UMass Memorial Medical Center for stroke or aneurysm care.
"When the patients got to our emergency department in Worcester, there would be another evaluation, which added time," Puri said.
To reduce the time to treatment, in 2022 Puri reached out to colleagues in the emergency departments at the Medical Center and regional community hospitals, in addition to clinical system leaders, to develop a new approach. His idea was to allow confirmed stroke patients to bypass the emergency department in Worcester and be brought in directly to the neurointerventional suite. The synergy between the emergency departments, stroke team, post anesthesia care unit, anesthesia teams as well as the neurointerventional radiology advance practice providers, technicians and nurses made this pathway an amazing success to provide the best care in the fastest way possible.
This new protocol is now in place. Puri or another team member remotely reviews assessments and imaging done by physicians in community hospitals. If they concur that the patient is suffering a stroke, then the patient is directly admitted for treatment, bypassing the emergency department intake.
"You can have the best technology and techniques in the world, but if you can't get the patient in for treatment fast enough, then it doesn't matter," Rosen said. "The new direct-to-angio suite protocol Dr. Puri led is a great example of how we are always looking to improve our processes for the benefit of patients.