Jill Zitzewitz Receives Outstanding Community Service Award
The 23rd annual Women's Faculty Committee Awards honoring women in science and health care for achievements in early career development, clinical service, mentoring, education, health equity and community service at UMass Chan Medical School were presented on Monday, May 8. Jill Zitzewitz, PhD, associate professor of radiology was presented the Outstanding Community Service Award, she was one of seven faculty members honored at the event. Carolynn DeBenedectis, MD associate professor of radiology delivered the Keynote address.
Carolynn M. DeBenedectis, MD, associate professor of radiology, vice chair for education and director of the radiology residency program, delivered the keynote address, "Diversity, Equity & Inclusion in Medicine: How You Can Help," highlighting the importance of diversity, equity and inclusion in medicine for the wellbeing of both patients and physicians. Dr. DeBenedectis commented on the need in medicine for women mentors and sponsors; research in diversity, equity and inclusion; utilizing pathway programs; and making sure everyone is represented in clinical trials to reduce health care disparities.
"We have a lot of opportunities as physicians and researchers to help with diversity, equity and inclusion, and it's for the good of everybody working in medicine. You don't have to do this as a selfless act that you don't get any benefit from," DeBenedectis said. "Women tend to fall prey to that in academics more than anyone. You really want to help create an inclusive environment in your work setting."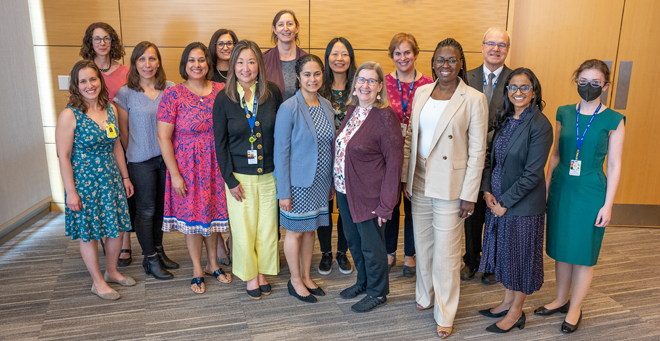 Dr. Zitzewitz shared more about her work in the community and at UMass Chan.
I was honored with the 2023 Women's Faculty Award for Community Service for my recent work as a patient advocate and for my service to UMass Chan and the broader community over the years. I currently lead the Central MA multiple support group, which is educationally supported by the International Myeloma Foundation. I also attend science meetings as a patient advocate, where I report on new therapies in the pipeline and their impact on patients. I'm incredibly grateful for the wonderful care I've received at UMMHC, and I currently serve on the Cancer Center Patient Family Advisory Council to help advocate for all patients. I also lead team Jill's Maroon Walkers in the UMass Cancer Walk each year since my multiple myeloma diagnosis in 2017 to raise money for cancer care, research and clinical trials here at UMMHC because I have learned first-hand how basic research impacts cancer therapeutic development in serendipitous ways. I have also just begun to serve as a patient advocate for the National Cancer Institute, with a focus on bringing the patient perspective to basic scientists in peer review and advocating for the role of basic science in cancer therapeutic development for the general public.
Previously, I also advocated for research in my role as an ALS researcher with a focus on protein misfolding, and I brought my students to ALS walks and support groups to discuss the therapies that were in the pipeline. I also served 7 years as the faculty representative to the UMass Day Care Task Force to bring daycare back onsite. I also previously worked with graduate students to bring science outreach to local elementary schools for Science Nights, where graduate students developed hands-on experiments for kids to do with posters that described the science involved. I also served as a Girl Scout Leader for 12 years, and I continue to support community service events in my community. As a matter of fact, just last week I used a UMass Chan Cares community service day to volunteer at the Josh Thibodeau Helping Hearts Foundation heart screening at South High, and then on this past weekend I served as a team leader for a meal packaging event at Immanuel Lutheran Church in Holden, MA, where we packaged 17,111 meals to help feed our hungry neighbors in Worcester, for the Wachusett food bank and Guild of St. Agnes.
As an educator teaching in the first year curriculum of the medical school and the graduate school, I am so inspired by our amazing students. They are truly advocates for change in the world, and I enjoy bringing the patient perspective to the classroom.
Because of my multiple myeloma diagnosis, I have had to close my lab. I can't physically manage the work or justify taking on students when my long-term health is unclear and I am taking maintenance therapy for the rest of my life. I'm very excited though that I have been able to switch my faculty focus from investigation to education and move to Radiology in the process. I am serving as one of the co-directors of the Principles 2: Foundations in Disease, Prevention and Treatment course in the new Vista curriculum, where I teach pharmacology and cancer concepts and provide the patient perspective. In the graduate school, one of my all-time favorite lectures is the lecture on Proteostasis and Autophagy in Cellular Biochemistry, where I can both talk about protein misfolding from the science perspective of my research career but then discuss the therapeutic development of proteosome inhibitors, which transformed the outcomes for myeloma patients like me. I love using myself as the human model system in the classroom when talking about how we never know how basic science can impact human health, and I'm always very open about providing the patient perspective. I'm also excited to continue my work in education, with a focus on interprofessional education. I think that the problems facing our society are challenging, and we need to train our scientists, doctors and nurses to work collaboratively to advance therapies that help people and improve human health. It's the multitude of perspectives that drives change. I'm really grateful to work at UMass Chan and get my cancer care at UMMHC. This community is my home, and I'm grateful that I can still contribute in meaningful ways!