14th Annual Edward Smith Lecture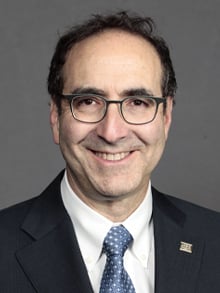 The department welcomed Dr. Jeffrey S. Klein, as the 14th Annual Edward Smith Lecturer on 10 June 2021 via Zoom. Dr. Klein is the A. Bradley Soule and John P. Tampas Green and Gold Professor of Radiology at the University of Vermont College of Medicine. A renowned expert in lung cancer staging and detection, Dr. Klein served as editor of RadioGraphics 2012-2021. Editor-in-chief of the Journal of Thoracic Imaging from 2000 to 2005, Dr. Klein has longtime devotion to educational and scientific publishing in radiology, with a particular interest in developing new presentation formats for educational material.
Dr. Klein's lecture was titled: The Role of Imaging Journals in Resident Education and Training
PDF Flyer
Edward H. Smith, M.D. Annual Lectureship
The Edward H. Smith, M.D. Annual Lectureship in Radiology at the UMass Chan Medical School has been established to honor Dr. Smith's service over two decades as Chair of the Department. Dr. Smith's vision for developing Radiology at UMass and his ability to attract and retain talented faculty created the foundations for the thriving Department we see today. In recognition of his leadership and dedication, this Lectureship will invite leaders of our specialty to share their clinical experience and scientific achievements. The lectureship is held as part of the annual radiology graduation activities.