Sughra Raza - Presents at Asian Breast Diseases Association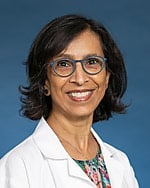 Sughra Raza, MD, FACR, presented her first international lecture as a UMass faculty member after joining the division of breast imaging this spring.
Dr. Raza presented at the opening lecture at the 18th Asian Breast Diseases Association (ABDA) Annual Scientific Meeting 2021 on 19 June 2021, Hong Kong Time, as an online webinar. Her talk was titled: Imaging Assessment of TNBC - update on recent advances
This scientific meeting provides a comprehensive forum for breast health professionals in different specialties and provides timely updates in surgery, radiology, oncology and pathology of breast cancers.