Sarwat Hussain Honored with Global Humanitarian Award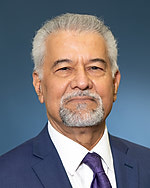 Professor Sarwat Hussain, MD was honored with the 2020 Global Humanitarian Award by the American College of Radiology® Foundation (ACRF). The award honors individuals who have had a positive global impact on radiology services. The ACRF presented both its 2020 and 2021 Global Humanitarian Awards at the American College of Radiology (ACR) 2021 virtual meeting, held May 15–19. The presentation of the 2020 Global Humanitarian Awards was postponed due to the global COVID-19 pandemic.
For 45 years, Dr. Hussain has served as a radiologist in Pakistan, the UK, Saudi Arabia, Tanzania, Liberia, Iraq and the USA. In 2017, he took a year sabbatical from the University of Massachusetts to become the founding Chief Medical Officer and Chief Radiologist at the Imam Al Hujjah Charity Hospital near Baghdad, Iraq. In 2018, Dr. Hussain established the Global Institute of Healthcare Quality in Pakistan. He was a founding member of Imamia Medics International , a volunteer organization with projects in over a dozen countries. Dr. Hussain also launched the peer-reviewed Journal of Global Radiology, an online publication to catalogue relevant research in radiology in LMIC countries.
The ACR Foundation Global Humanitarian Award recognizes outstanding individuals, organizations and programs working to improve access to quality radiological services in low and middle-income LMIC countries.