Radiology Graduation 2021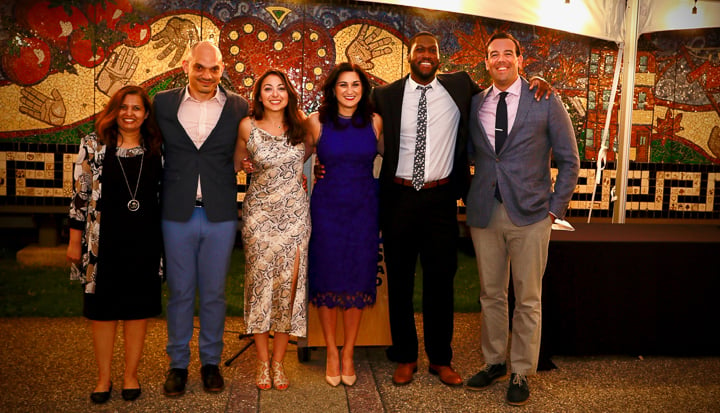 On June 24 the Department of Radiology hosted the annual graduation ceremony outside in the courtyard of the Worcester Art Museum. Unlike past years, the guest list was limited to fellows, residents graduates and their families, the program directors and administrators. Carolynn DeBenedectis, director of the diagnostic residency program, opened by saying "Normally I start this speech off by saying 'we have had another great year in the radiology residency here at UMass, due to our wonderful residents.' However, this year I want to start by saying we had an extremely challenging year and a half and we made it through because of our wonderful, resilient residents ... I cannot express how proud I am of these 19 residents for overcoming so many challenges this year and do it with a positive attitude all while providing excellent care to our patients."
The evening included a social hour special awards and diplomas for the graduates. A new honor, the Michael A King, PhD Award for excellence in research was presented for the first time, to Robert King, PhD. Some of the 2020 graduating class (Venkatesh Murugan, Alex Pavidapha, David Radcliffe, and Evan Ruppell), who did not get a true graduation celebration last year (zoom) were able to attend for a belated celebration. Dr. DeBenedectis thanked the graduating chief residents, Dr. Derek Chicarilli and Dr. Roberto Kutcher. She also announced the new chief residents – Drs. Tina Shiang, Sameer Hanfi, and IR chief Dr. Yara Younan.
Faculty were thanked for their contributions to education: Mentors; Lacey McIntosh, Alan Goldstein, Hemang Kotecha, Ryan Tai, and Byron Chen. RLI healthcare economic course mentors Dr. Aaron Harmon and Dr. David Choi. Dr. Carolyn Dupuis and Dr. George "Chip" Watts for being associate DR program directors, and thanks to the IR/DR APDs: Dr. Aaron Harmon and Dr Anna Kuhn. Dr. DeBenedectis presented a special gift to Tom Delaney, for being an "Audio Visual Hero."
2021 Special Awards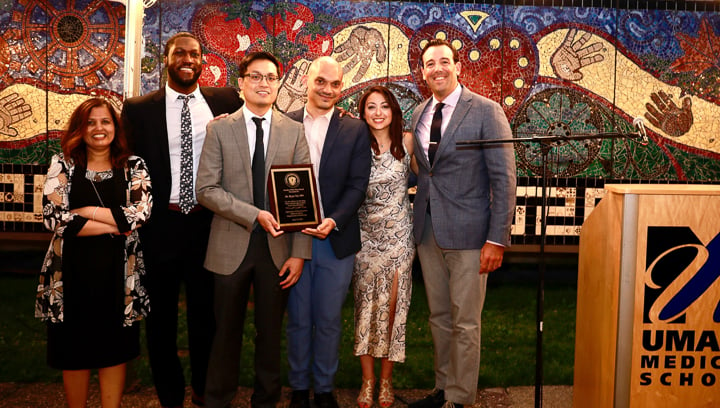 Teacher of the Year - Ryan Tai, MD
RSNA Resident Roentgen Research Award – Dr. Sameer Hanfi
Dr. Balikian "Extra Mile" Award – Dr. Derek Chicarilli
Resident as a Teacher Award – Dr. Alex Newbury
Graduates
Diagnostic Radiology Residency Graduates
Derek Chicarilli, MD
MSK Imaging fellowship at Brigham and Women's Hospital
Vaishali Kapare, MBBS
Neuroradiology fellowship at UMass
Roberto Kutcher, MD
Integrated IR residency at UMass
Joelle Wazen, MD
Abdominal Imaging fellowship at the University of Chicago
Jojo Yeboa, MD
Independent IR residency at UMass
Interventional Radiology Residency Graduates
Venkatesh Murugan, MBBS
Alex Pavidapha, MD
Graduating Fellows
Dominique Rowcoft, MD – Abdominal Imaging Fellow
Rani Sewatkar, MBBS – Breast Imaging Fellow
Elisabeth Albert, MD – Cardiothoracic Imaging Fellow
Zeynep Vadar, MD – Emergency Radiology Fellow
Ahmed Sobieh, MBChB, PhD – MRI Fellow
David Radcliffe, MD – MSK Fellow
Ashwini Kulkarni, MBBS, MD – Neuroradiology Fellow
Atul Kumar, MD – Neuroradiology Fellow