Annual Edward Smith Lecture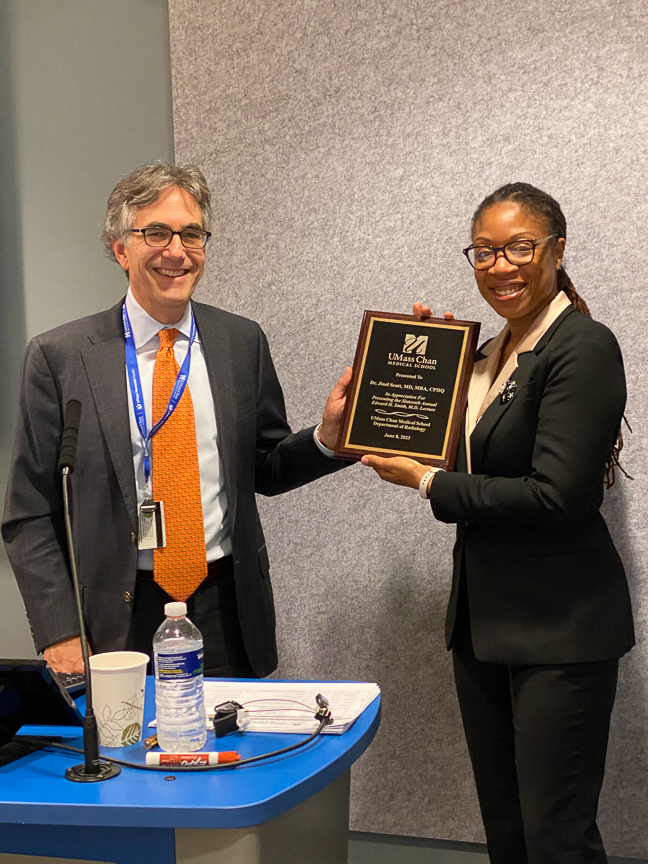 We were delighted to welcome Dr. Jinel A. Scott, on June 8th, as the 16th Annual Edward Smith Lecturer. Her presentation was titled Nothing New Under the Sun: The Struggle for Health Equity.
Dr. Scott is a radiologist and Chief Quality Officer at NYC Health + Hospitals/Kings County. In her role she manages the strategy and activities around health equity, quality management, performance improvement, infection prevention, and regulatory affairs.
She is a board member of the Radiology Society of North America (RSNA) and is the RSNA representative to the Radiology Health Equity Coalition. She serves on the American College of Radiology (ACR) Appropriateness Criteria Expert Panel on Musculoskeletal Imaging and the General Radiology Improvement Database Committee.
Dr. Scott is passionate about health equity and has dedicated her career to ensuring that safety net hospitals provide high quality care to communities whose health outcomes are heavily impacted by the effects of poverty, racism, and prejudice. She believes that robust, patient centered quality and safety strategies are integral to the survival of these essential institutions.
The Edward H. Smith, M.D. Annual Lectureship in Radiology at the University of Massachusetts Medical School has been established to honor Dr. Smith's service over two decades as Chair of the Department. Dr. Smith's vision for developing Radiology at UMass and his ability to attract and retain talented faculty created the foundations for the thriving Department we see today. In recognition of his leadership and dedication, this Lectureship will invite leaders of our specialty to share their clinical experience and scientific achievements.
Lecture flyer and program. (PDF)