Lacey McIntosh's Baseball Career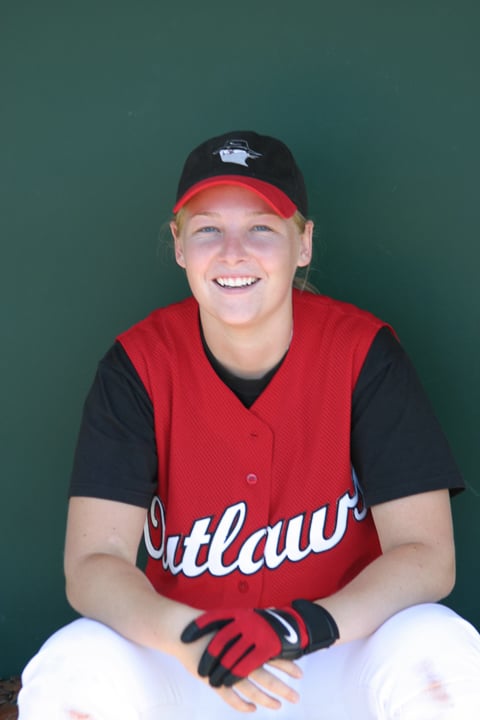 Among the large and diverse group of individuals who collectively make up the Department of Radiology at UMassMemorial, there are hidden extracurricular talents and skill sets; extreme athletes, artists, dancers, designers, inventors, cartoonists, musicians, poets and writers. Recently we became aware of the professional baseball history and talents of Dr. Lacey McIntosh.
Dr. McIntosh grew up on Martha's Vineyard and was the only girl on her Edgartown Elementary school baseball team. She played varsity softball at Martha's Vineyard Regional High School, and was selected to the Cape and Islands All Star Softball team in 2000. An article in an August 2000 issue of the Cape Cod Times praised her as one of the four top team members that year "Lacey McIntosh, Martha's Vineyard, junior, shortstop: She has an arm that gets your attention during warm-up. She backs that up with smooth hands and solid positioning ... 'Lacey is in a class by herself,' said coach Bill Belcher. 'She is a special player, but she also likes to have fun. She leads the card game on the ferry.' ... Had a .456 batting average with four homers and 32 RBIs batting out of the third spot." Lacey was also selected for the Baystate Games her sophomore, junior, and senior years of high school.
Dr. McIntosh played one year of Division 1 softball at Holy Cross, where she majored in pre-medical studies and history. After college graduation, she tried out for and was drafted to the North American Women's Baseball League (NAWBL) as a shortstop and relief pitcher for the Outlaws in 2005 – she states "it was so much fun and one of my best summers I've ever had."
A January 2012 article in the Martha's Vineyard Times featured Dr. McIntosh's baseball and medical career. A few excerpts from the article:
"By the time she graduated from Holy Cross in 2005, Ms. McIntosh had known for a decade that playing for the Red Sox was a pipe dream, but she hadn't given up on baseball altogether. When she heard about a team in Lynn that was in the New England Division of the North American Women's Baseball League, her curiosity got the better of her."
"I actually spent a year playing professional baseball," Ms. McIntosh said, still sounding a bit amazed six years later. "I went to a series of tryouts, and I ended up getting drafted. They pay you to play, and I thought, how can this be a job? It was awesome. I had the best time, met some really amazing people, and I got to play baseball."
Currently Lacey McIntosh, DO, MPH, is an Assistant Professor, Division Chief Oncologic and Molecular Imaging, and Associate Program Director Radiology Residency Program. She is also coach of daughter's Under 8 softball team this spring in West Boylston.