Radiology Graduation 2023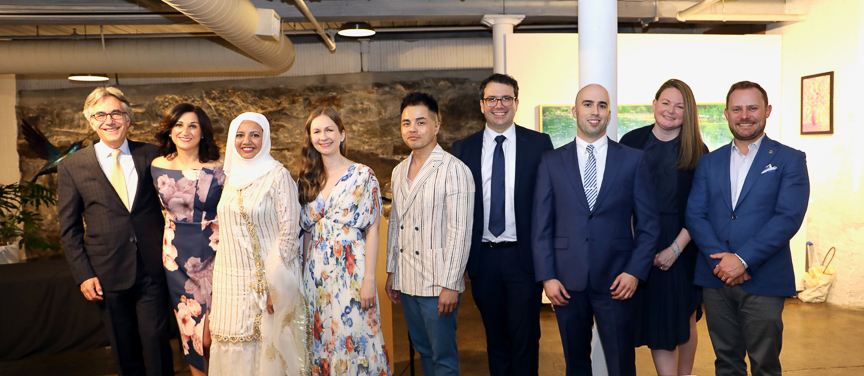 On June 22, 2023 the Department of Radiology hosted the 2023 graduation honoring the residents and fellows who have completed their respective training programs. The evening included presentation of annual awards to both residents and faculty. The dinner was held in the White Room located in the Canal District of Worcester. Departing Diagnostic Radiology Program Director Carolynn DeBenedectis presented awards to DR graduates. Dr. Lauren Ferrara presented certificates to graduating IR residents. Fellowship Directors presented awards to graduating fellows.
Dr. Carolynn DeBenedectis was thanked for all that she has done contributing to the residency program and radiology education. She was honored by the residents, faculty and staff with a chair from UMass Chan Medical School.
The evening was coordinated by Beena Gopal Krishnan and Wendy Diamond. Tom Delaney was on top of the audio visual needs. Dr. Larry Zheng was the event photographer. Host for the evening was department chair Max Rosen.
Diagnostic Radiology Graduates
Noah Donoghue, MD
Averi Gibson, MD, PhD
William Juan, MD
Marcello Scotti, MD
Efaza Siddiqui, MBBS
Interventional Radiology Graduates
Yara Younan, MD - IR Integrated
Daniel Alvarez Valero, MD - IR Independent
Graduating Fellows
Freyli Bustamante, MD, Abdominal Imaging
Vaibhav Jain, MBBS, Abdominal Imaging
Ashwini Kulkarni, MBBS, Breast Imaging
Debajyoti Saha, MBBS, Cardiothoracic Imaging
Zeynep Vardar, MD, Neuroradiology
Roberto Kutcher Diaz, MD, Neurointerventional Radiology
Honors and Awards
RSNA Resident Roentgen Research Award
Averi Gibson, MD, PhD
Michael A. King PhD Research Award
Christopher Zoppo (UMass Chan medical student)
Balikian "Extra Mile" Award
Matthew Mariyampillai, MD
Resident as a Teacher Award
William Juan, MD
Teacher of the Year Award
Tasneem Lalani, MD