In the Spotlight - Lorna Haddad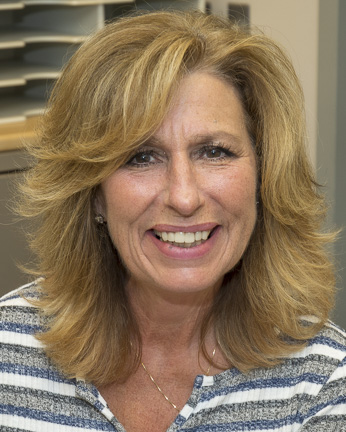 Lorna Haddad has joined the department as a Senior Administrative Assistant working with Matthew Gounis, PhD and the New England Center for Stroke Research (NECStR). Lorna reports that she's finally getting Dr. Gounis' calendar organized and keeping track of where he's traveling. In her new position Lorna is also responsible for the NECStR full cycle onboarding new hires, assist in making sure the lab has all inventory needed and up to date, assist Cindy Wilson with DPAC, expense reports, travel arrangements, obtain publications of the web and post for public viewing, greet new clients, and keep the office running smoothly.
Lorna has a Bachelor's of Science from Worcester State University in Computer Science. Her previous position was at UMass Memorial Medical Center as a Physician Recruitment Sr. Admin. In this position she was responsible for Presentation development for recruiting team, calendar management, travel arrangements, expense reporting, phone screen, and meeting arrangements.
Past positions included work at Boston Scientific Corporation in Marlborough, MA from 2010-2019 holding 2 positions. The first position was Business Process Administrator III - Inventory/Logistics Analyst from 2010 – 2017. From 2017 through 2018 I held the position of Admin III Sales Training Coordinator- Most of my duties were Sales Training candidate onboarding, presentation development for sales training programming, calendar management, travel arrangements, expense reporting, contract administration, coordinate cross functional initiatives including the Executive Leadership Development Program Maintain budgetary and scope tracking responsibilities, track assignments and reported on completions, provide administrative back up support to the Directors of Sales.
When asked what attracted her to UMass, Lorna answered "Being on the clinical side I wanted to understand how it all worked together and what better way to achieve this by coming to work for the Medical School in such a prestigious department and lab."
Asked what inspired her to work in health care? "I have been in health care in one capacity or another for approximately 20 years. At first it was a job, however, shortly thereafter, I felt I was a part of something bigger, working in the diagnostics field, medical device field and now here."
Lorna's personal interests include playing the piano and she loves to cook. She also does CrossFit 3 times per week 😊! Lorna has two grown sons, Shane and Kamran.
Welcome Lorna!