ASER
Drs. Carolyn Dupuis, Hao Lo, Hemang Kotecha, Gabriela Santos-Nunez and former ED Fellow, Ahmed Sobieh from the Division of Emergency Radiology recently attended the American Society of Emergency Radiology (ASER) Annual Scientific Meeting in Scottsdale, AZ. Dr. Lo moderated a session on Infection and Ultrasound and presented a paper. Meeting Program
Pictured from left are UMass Radiology Alumni, Carolyn Dupuis (Class 2010), Krystal Archer-Aroyo (Class 2007), Gregg Bean (Class 2009), and Robin Levenson (Class 2008).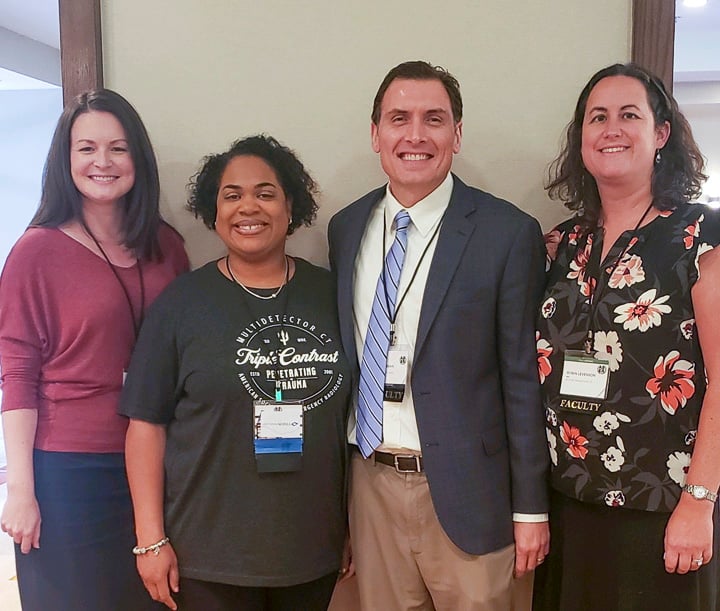 Where are they now:
Carolyn Dupuis, MD - Assistant Professor, UMass Chan Medical School, Division of Emergency Radiology.
Krystal Archer-Arroyo, MD, is an Assistant Professor in the Department of Radiology and Imaging Sciences at Emory University School of Medicine.
Gregg Bean, MD, Director of the Emergency Radiology Division at University of Texas Health Science Center, San Antonio, TX.
Robin B. Levenson, MD, Instructor, Diagnostic Radiology Beth Israel Deaconess Medical Center.