New MRI Magnet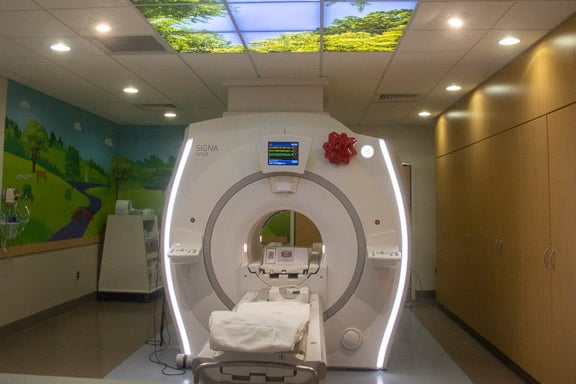 A new GE SIGNA Artist XT 128 channel 1.5 Tesla MRI was recently installed on the first floor of the University Campus. The new magnet will allow faster scans than the 15 year old MRI currently on campus. With two MRI units Shields and the Department of Radiology will be able to accommodate more hospital and ambulatory patients. The new magnet will be transitioning to the primary role and will be open 24/7. The older magnet will take on a support role and will run 16 hours Monday - Friday, and then 12 hours on the weekend.
Special Features
The new magnet has some special features. One is elastography which maps the elastic properties and stiffness of soft tissue. This will help with tests of the liver and hepatocellular cancer. The cancer can be diagnosed with a 20 minute scan and not require a biopsy. Another feature is Metal Artifact Reduction software which will allow imaging of total joints to help diagnose infections and post-surgical complications. The new magnet also has a robust Cardiac MRI imaging and post processing platform.
Calming Video
Another special feature of this new machine is the MR-Safe Portable Video Display. It will help create a calming environment, improve patient comfort and satisfaction, reduce patient motion, reduce need for sedation and increase MR productivity. It's anticipated that this will be especially helpful for pediatric patients. Click to experience the portable video display.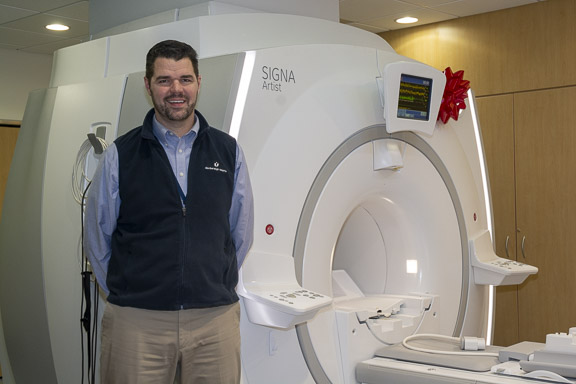 Aaron Easton is the Regional Business Director for UMass Memorial MRI Imaging Center, a joint venture with Shields and UMass Memorial. He has been instrumental overseeing the installation of the magnet and getting it ready for patient care.