Radiology Assists with BrainBee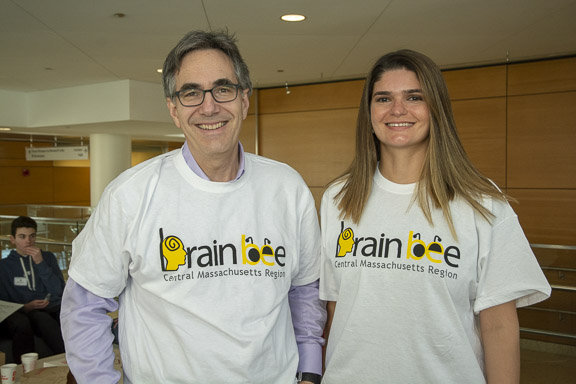 The Thirteenth Annual Central Massachusetts Brain Bee was held at UMass Chan Medical School on Saturday February 9th. Hosted by the UMass Department of Psychiatry and the NeuroNexus Institute, the Brain Bee is a competition designed to encourage students toward careers in the neurosciences. 51 contestants from 23 Massachusetts high schools came to Worcester to compete for a chance to represent Massachusetts at the United States National Brain Bee in April.
The Department of Radiology participated during the event by hosting a special presentation for parents, teachers and guests while the students were completing their initial testing. Radiology Department Chair, Dr. Max Rosen welcomed the guests and introduced Katyucia De Macedo Rodrigues, MD, UMMS Assistant Professor in the Division of Interventional Neuroradiology, who presented a talk about Recent Advances in Stroke Treatment. Kathy Delongchamp and Charlene Baron also assisted during the event.