Page Menu
Student Affairs Highlight: Assistant Vice Provost Dr. Mike Hirsh & the Worcester Goods for Guns Buyback Program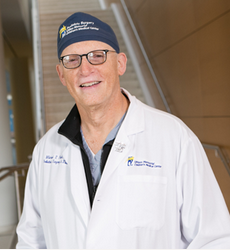 In the 18th year of the Greater Worcester Goods for Guns Buyback program, we saw the evolution of a life cycle for a gun that illustrates how creative we can be in the process of getting firearms of the street. Worcester has now removed 3685 weapons in this period of time, but the 163 this year were collected because of funding we received from the DA's discretionary donation of drug confiscation money that enable us to buy gift certificates. The patrons that came in also received trigger locks for weapons still at home or at large. Once the weapons were collected they were crushed to the specifications of a group of Boston blacksmiths so that Assabet metal working vocational High School students could craft garden tools that they will donate to our UMMS students committed to our newly created community garden. There we will produce crops to donate to the Worcester County Foodbank. This is a win-win on so many ways. If even 7 of the firearms had caused an injury, we have saved money as running the program for 18 has been very economical.
To learn more about Dr. Hirsh's work with the Worcester Gun Buyback program, click here to read the Telegram article featuring this.
Latest News
Albert "Albie" Sherman, the longtime vice chancellor for university relations at UMass Medical School whose service to the commonwealth inspired the Massachusetts legislature to name a building on campus in his honor, died on Monday, Feb. 17, at the age of 81.

Category: Graduate School of Biomedical Sciences,Graduate School of Nursing,Alumni,Faculty,Student

At Commencement on May 31, UMass Medical School will recognize the accomplishments of Cori Bargmann, PhD, head of science at the Chan Zuckerberg Initiative; Diane Casey Riccio, PhD, and Dan Riccio, committed supporters of UMass Medical School; and Michael P. Angelini, Esq., chairman of the Worcester-based law firm Bowditch.

Category: Graduate School of Biomedical Sciences,School of Medicine,Faculty,Student,MD/PhD,Jeanne B. Lawrence

According to new research from the lab of Jeanne Lawrence, PhD, differentiated human cells retain the ability to undergo chromosome silencing in response to XIST, a naturally occurring "off switch" for the female X-chromosome.
UMMS prioritizes respectful treatment of all members of our community. For concerns about mistreatment in the learning environment, please click the link above.