Page Menu
Student Affairs Highlight: Assistant Vice Provost Dr. Mike Hirsh & the Worcester Goods for Guns Buyback Program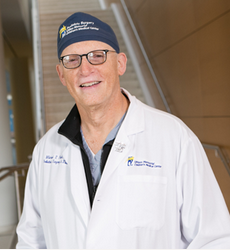 In the 18th year of the Greater Worcester Goods for Guns Buyback program, we saw the evolution of a life cycle for a gun that illustrates how creative we can be in the process of getting firearms of the street. Worcester has now removed 3685 weapons in this period of time, but the 163 this year were collected because of funding we received from the DA's discretionary donation of drug confiscation money that enable us to buy gift certificates. The patrons that came in also received trigger locks for weapons still at home or at large. Once the weapons were collected they were crushed to the specifications of a group of Boston blacksmiths so that Assabet metal working vocational High School students could craft garden tools that they will donate to our UMMS students committed to our newly created community garden. There we will produce crops to donate to the Worcester County Foodbank. This is a win-win on so many ways. If even 7 of the firearms had caused an injury, we have saved money as running the program for 18 has been very economical.
To learn more about Dr. Hirsh's work with the Worcester Gun Buyback program, click here to read the Telegram article featuring this.
Latest News
Category: Graduate School of Biomedical Sciences,School of Medicine,Faculty

A program developed at UMass Medical School to ensure women with depression during or after pregnancy get the help they need is being replicated across the country, according to an NPR Morning Edition report on the Massachusetts Child Psychiatry Access Program for Moms.

Category: Graduate School of Biomedical Sciences,School of Medicine,Faculty

The American Board of Psychiatry and Neurology has selected Sheldon Benjamin, MD, as one of its eight psychiatry directors. He began his four-year term on Jan. 1.

Category: Graduate School of Biomedical Sciences,Faculty,Postdoctoral Scholar,gene therapy

New research by Dorothy Schafer, PhD, reveals the molecular process in which synaptic connections in the brain are damaged in multiple sclerosis and how it contributes to neurodegenerative symptoms. The paper also shows how gene therapy may be used to preserve neural circuits.
UMMS prioritizes respectful treatment of all members of our community. For concerns about mistreatment in the learning environment, please click the link above.