LEAD Program - Leading, Empowering and Disrupting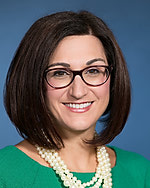 Dr. Carolynn DeBenedectis was invited to participate in a one-year women's leadership program called LEAD - Leading, Empowering and Disrupting. The LEAD program is jointly led by SCARD (Society of Chairs of Academic Radiology Departments) and GE Healthcare. The program's goal is to increase the number of women in leadership positions with their respective organizations and to build a national community of women across Industry and Radiology. The program will consist of 20 women - 10 radiologists and 10 GE Healthcare staff.
"The program aims to leverage the leadership expertise of both organizations as well as developing synergies between participants. The program is designed for mid-career women (at least six years beyond training) who have had some level of formal leadership responsibility in their department and have aspiration for advanced leadership roles.
Dr. DeBenedectis traveled to Santa Fe, NM this past fall to begin the program and participates in monthly virtual training programs as well as 4-5 live meetings throughout the year. Dr. DeBenedectis is the Director of the UMMS Radiology Residency Program.