Page Menu
2019 Brain Bee
Congratulations to Petra Dujmic from Arlington Catholic High School. Petra was the winner of the 13th Annual Central Massachusetts Regional Brain Bee competition and the Andrew M. Sheridan Young Neuroscientist Award. Asked how she felt to have won the Brain Bee, Petra had this to say. "I just wanted to thank Dr. Benjamin, Mr. and Mrs. Sheridan, and all 39 volunteers for continuously extending this exciting opportunity to high school students and enabling the Brain Bee to be one of the most educational, memorable, and pleasurable events in our student careers! Thanks to the Brain Bee, I have finally decided upon a future career in neuroscience, and am super excited to continue learning about the brain for the National Bee in proud representation of Massachusetts!" Petra represented UMass at the National Brain Bee competition held on April 12-14th at Penn State College of Medicine in Hershey, Pennsylvania. Congratulations Petra on a 9th place finish!
Congratulations are also extended to our Central Massachusetts Regional Brain Bee runner-up Neil Kale from Westborough High School and all of the finalists.
Read more about the Regional Brain Bee event here
Morningside Graduate School of Biomedical Sciences students help competitors get ready. Read more here.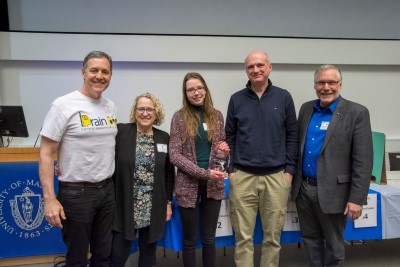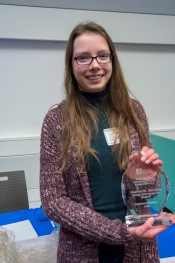 Michael Sheridan, Shirley Sheridan, Petra Dujmic, Denis Dujmic, and Sheldon Benjamin, MD Petra Dujmic with the Sheridan Award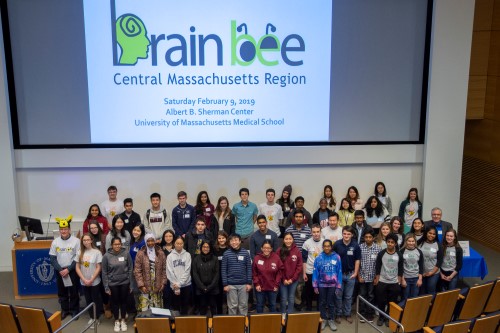 2019 Brain Bee Participants