Page Menu
Continuing Education (CE) and Continuing Medical Education (CME) Programs
Psychiatry Grand Rounds:
Grand Rounds take place on Thursdays, September through June, from 12-1 p.m. EST in the Lazare Auditorium (1st floor - Medical School Building, S1-607, near the library) unless otherwise indicated. Rounds are attended by faculty, residents, and professional staff, and are also open to the public. Online links to the Grand Rounds are available to departmental faculty and staff. Videoconferencing equipment purchased by the department also offers off-site faculty live viewing at specified locations: Worcester Recovery Center and Hospital; CDRO / Biotech 1 / Addiction / Child; Ha; and Community Healthlink.
Public Sector Psychiatry Division Educational Programs:
The PSP division puts on an annual Public Sector Psychiatry Conference each summer, and has done so for over 30 years. The PSP topics are always dynamic, and national leaders present at the sessions. The conference is supported by the state Department of Mental Health. Many physicians attend.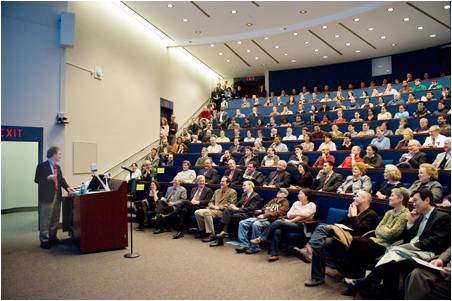 Public Sector Psychiatry (PSP) has always educated residents in both inpatient and outpatient service, and has a long and sustained track record in psychiatry and psychology in the United States.
The division offers training programs for state contract physicians, including area medical directors (AMDs) and senior psychiatrists (SPs). The three AMDs and SPs meet monthly with PSP Division Director Dr. Jeffrey Geller. Every other month those meetings are held at UMass Medical School and include appropriate speakers to cover areas of interest to the group. The AMDs and SPs receive CME credits for these educational meetings. The Medical School has hosted these meetings for the past several years.
Annual Research Day:
Each year, the department holds a Research Day, which is distinguished by the prominent speakers that it attracts. Keynote addresses for this program are typically given by chief administrators or principal leaders in mental health agencies and organizations in the United States, such as the National Institute on Drug Abuse and the National Institute of Mental Health. The event has a reputation for focusing on pressing issues of the day, from addiction and child mental health, to complementary and alternative medicine, women's mental health, and recovery.
Law and Psychiatry Program
Faculty members serve as consultants and provide services in forensic settings nationwide. They also offer training to law enforcement personnel, the public defense bar and the judiciary in Massachusetts.
The training efforts of the program focus on its Forensic Psychiatry Fellow Program and its Forensic Psychology Post-doctoral Program.
Practicum experience is provided in a variety of criminal and juvenile forensic settings, both within the University and in public sector correctional and court settings in the community.
Addiction Educational Services:
Drs. Monika Kolodziej and Gerardo Gonzalez started this program and organized it within the Division of Addiction Psychiatry to support the activities of the division and the Central Massachusetts Addiction Consortium (CMAC). The first CMAC conference in 2010 was titled "Substance Use Disorders among Youth: Advances in Prevention and Treatment," with keynote speaker James Prochaska. The second CMAC conference in 2011 focused on "Families and Addiction Recovery: Building Foundations for Hope and Healing," and involved regional presenters as well as a keynote address by Joanne Peterson, the founder of Learn2Cope, a successful network for families coping with addiction. The conferences aimed to engage UMass faculty and CMAC partners to address important areas of concern in Central Massachusetts in interactive, educational formats. The participants at these events were substance abuse practitioners and mental health care providers, families, and other community members. Addiction Educational Services support other events and training opportunities, with Addiction Psychiatry Division faculty most recently involved in the Be Mentally Well series in the fall of 2012. This event, which was attended by over 250 providers, researchers, and community members, focused on substance use prevention and treatment for adolescents and emerging adults.
Tobacco Addiction CME:
Dr. Doug Ziedonis, Greg Seward, Ryan Coffman, and others on the Tobacco Addiction Consultation Service lead regular continuing education events for health care providers, including physicians. This department group also partners with the Department of Behavioral Medicine, which offers a Tobacco Treatment Specialist core training program.