Page Menu
Central Massachusetts Regional Brain Bee
UMass Chan Hosts 17th Annual Central Massachusetts Brain Bee
Nashoba Regional High School student Ivan Roberts won the competition for students interested in Neuroscience.
Congratulations Ivan!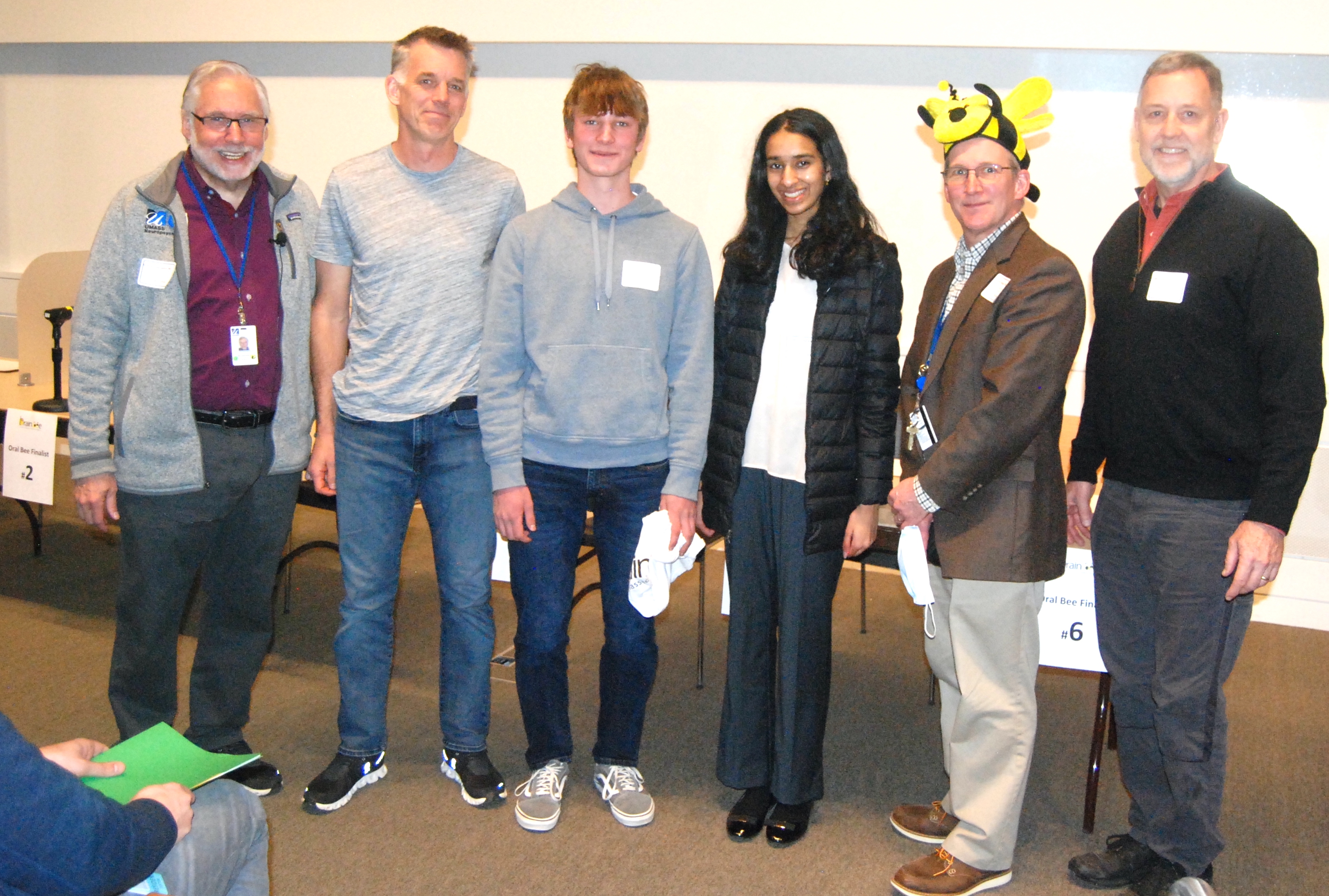 2023 Central Massachusetts Brain Bee Award Ceremony. From left to right, Sheldon Benjamin, MD, Eduardo Roberts, Champion Ivan Roberts, Runner-up Srilakshmi Venkatesan, David Weaver and Michael Sheridan. March 18, 2023.
Ivan Roberts from Nashoba Regional High School took top honors in the 17th Annual Central Massachusetts Brain Bee, held in the Sherman Center Auditorium at UMass Chan on March 18, 2023. Nine finalists were identified in a remote 'qualifying round' held on March 11. The finalists came to campus on March 18 for the in-person Brain Bee.
The nine finalists represented five area high schools, one each from Northbridge High School, Westborough High School and Acton-Boxborough Regional High School, and five students from Hopkinton High School.
Sheldon Benjamin, MD, Professor and Vice Chair for Education in the Department of Psychiatry served as master of ceremonies for the event, organized together with David Weaver, PhD, Professor of Neurobiology, Director of the Graduate Program in Neuroscience, and Executive Director of the NeuroNexus Institute.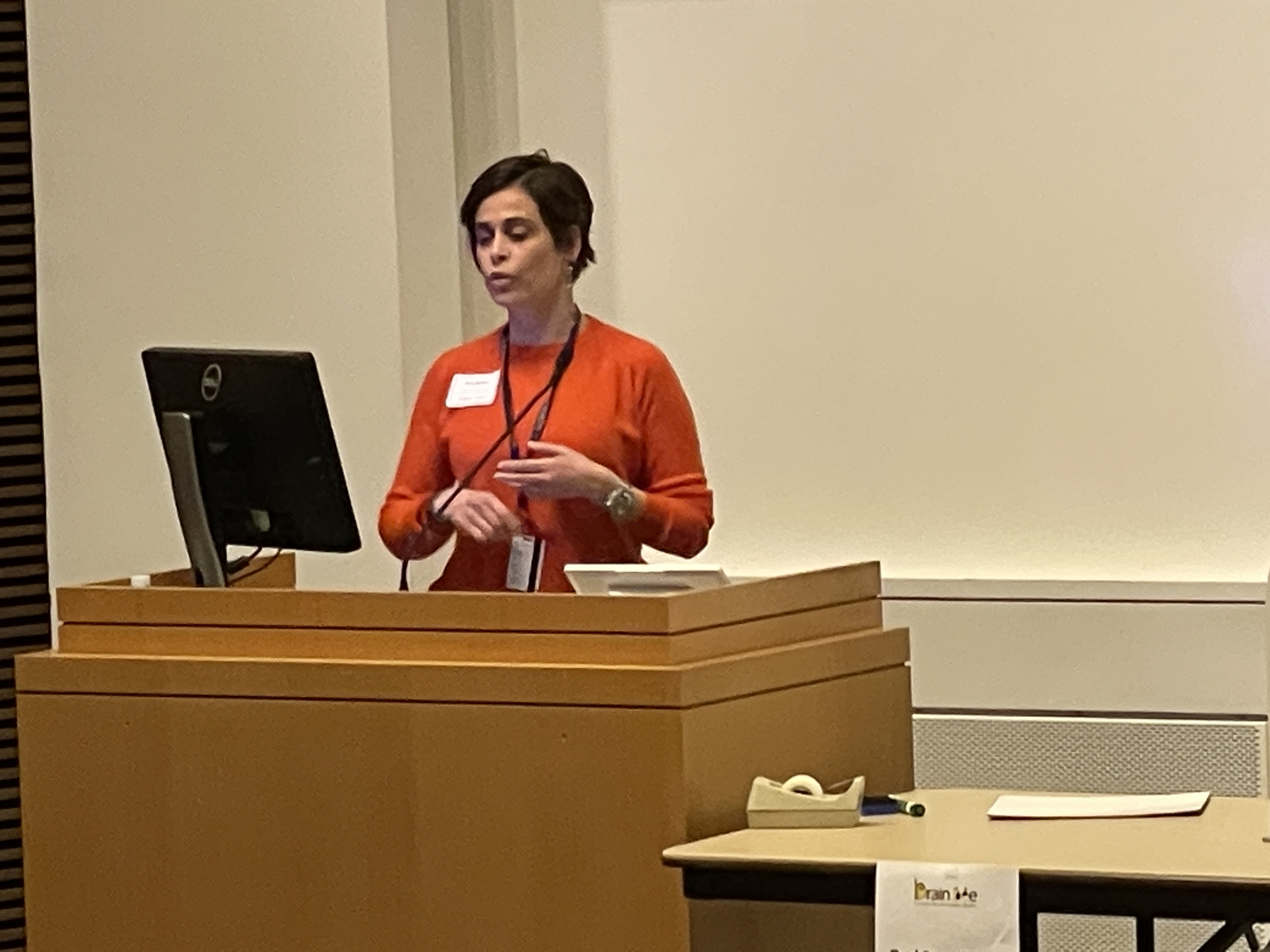 After the competition rounds, the Keynote Address was delivered by Ana Rita Batista, PhD, Instructor in Neurology, who discussed "How to develop a gene therapy for a rare neurological disease" with reference to her work on Cockayne Syndrome. In this disease, a rare, autosomal recessive mutation leads to deficits in DNA repair with widespread consequences including learning and sensory disabilities.
The Brain Bee competitors were asked a series of neuroscience-related questions of increasing difficulty drawn from materials they studied in advance. Neuroscience researcher Kale Edmiston, PhD and Chief Resident in Neuropsychiatry Taylor Young, MD served as judges for the event.
By the 14th question, four competitors remained and were tied. Ivan Roberts was the sole contestant to answer the fifteenth question correctly, leading to his victory.
The three-way tie for second place was broken using two additional questions, leading to identification of the runner-up, Srilakshmi Venkatesan of Hopkinton High School. Caroline O'Brien of Northbridge High School and Nandita Ramesh of Hopkinton High School completed the competition tied for third place. The other Finalists were Varsha Alladi (Acton-Boxborough Regional HS), Mahika Macharla (Westborough High), and Abhishek Sakti Kannan, Prisha Shrivastava and Vaagmi Shulka of Hopkinton High School.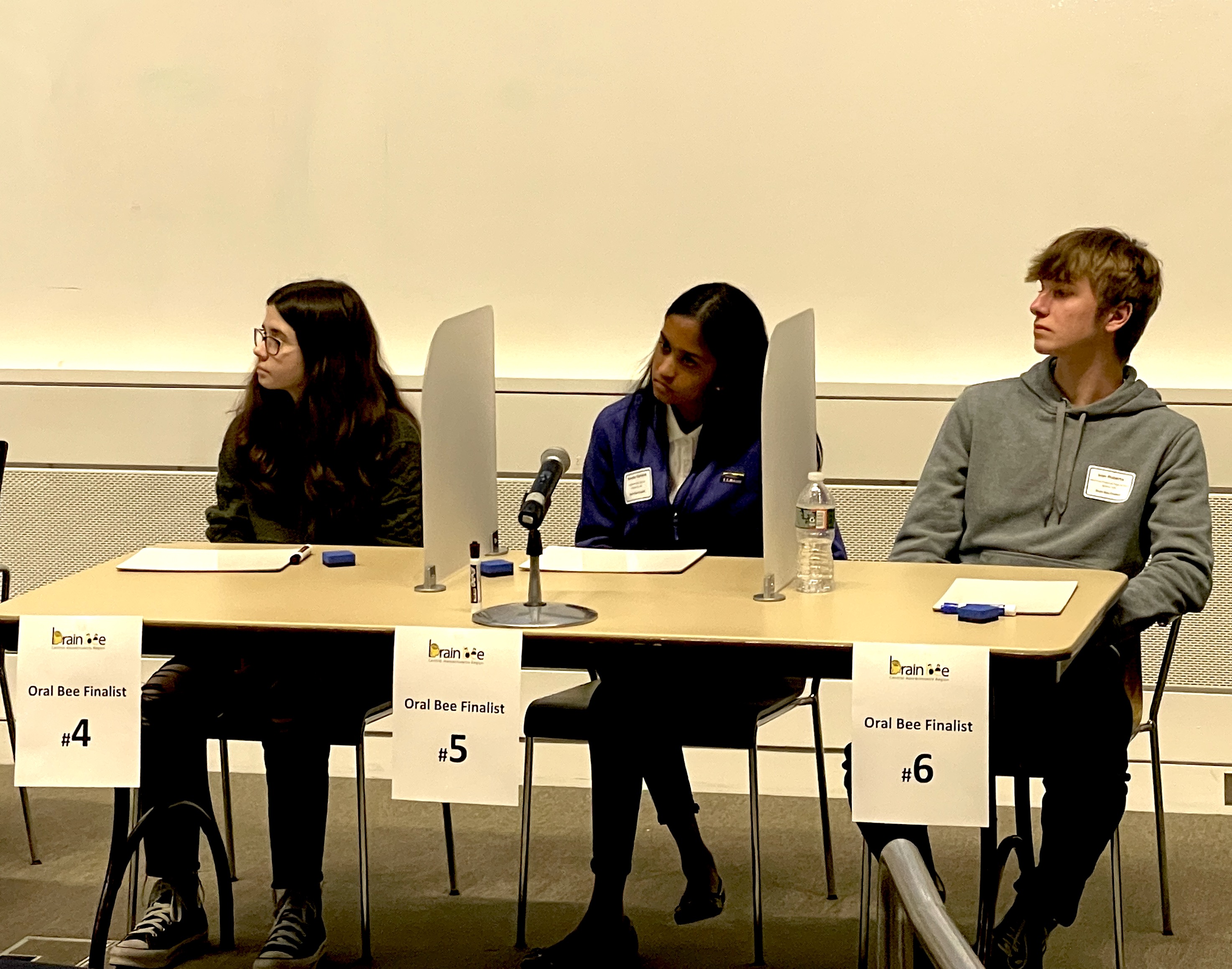 Brain Bee competitors (L to R) Caroline O'Brien, Nandita Ramesh and Ivan Roberts.
As the Central Massachusetts Brain Bee winner, Ivan Roberts is the recipient of the Andrew M. Sheridan "Young Neuroscientist Award." The award is named in memory of Andrew Sheridan, a graduate of St. Mark's High School who was a neuroscience major at Hamilton College and had shared his enthusiasm for the field with his parents before his untimely death in 2007.
Michael Sheridan, Andrew's father and a perennial Brain Bee volunteer, joined Drs. Weaver and Benjamin in awarding Ivan the Andrew Sheridan Young Neuroscientist Award. Expenses for Ivan and a chaperone to attend the USA National Brain Bee will be paid by UMass Chan, where the Departments of Neurobiology, Neurology, Neurosurgery, Psychiatry and Radiology jointly support the Bee through the NeuroNexus Institute. The 2023 USA National Brain Bee will be held in person at the University of California, Irvine, on April 21-23 https://www.thebrainbee.org/
The winner of the national Bee will receive a cash award and will be eligible to compete in the 2023 International Brain Bee to be held in conjunction with the American Psychological Association meeting in Washington, DC on August 1-5.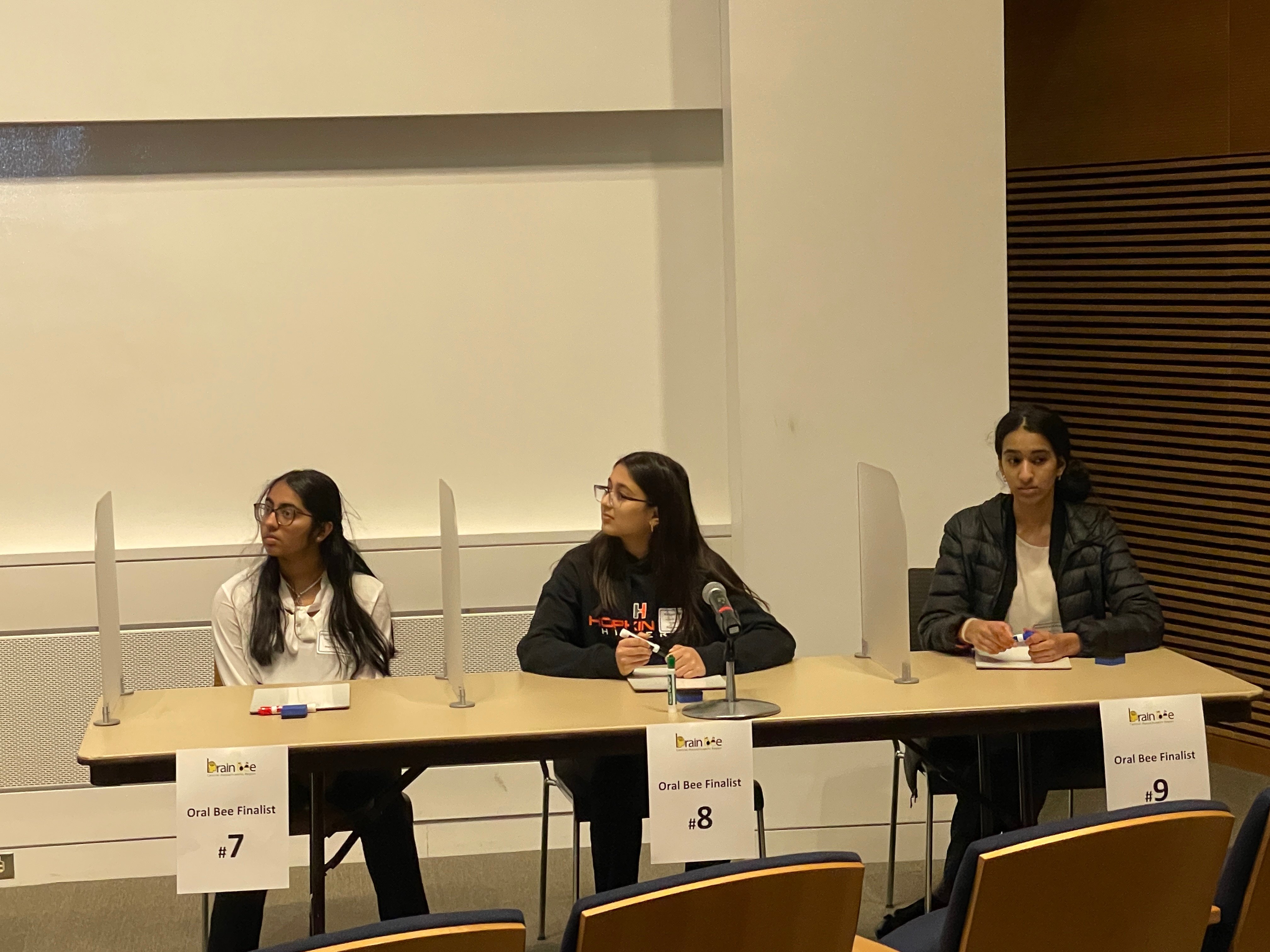 Participants in the 2023 Brain Bee
About The Brain Bee
The Brain Bee was founded in 1998 by Dr. Norbert Myslinski at the University of Maryland as a neuroscience competition for high school students. Since then it has grown into an international competition promoting knowledge of neuroscience and interest in neuroscience-related careers.
The Central Massachusetts Brain Bee is open to Central Massachusetts high school students in Grades 9-12. For the purposes of this competition, Central Massachusetts is defined as shown here. There is no cost to participate and no limit to the number of students who may attend from any given school.
Teachers, Parents, and Future Competitors – Join The Mailing List To be added to our Brain Bee e-mail Distribution list, complete the form. https://forms.gle/ENT282LHtgT6PABW6
Thank You To All Our Volunteers:
Bethany Berry, Caroline Hou, Timmy Le, Megan Fowler-Magaw, Shuhao Wan, Ghazal Rouhani and Dibakar Mallick.
Additional thanks to Information Technologies, especially Ross Petrain and Matt Tracy as well as to the UMass Chan Campus Police, and the Department of Environmental and Building Safety.


Recent Articles:
https://www.umassmed.edu/news/news-archives/2023/01/umass-chan-researchers-achieve-gene-therapy-milestone-for-potential-cockayne-syndrome-treatment/
https://www.umassmed.edu/news/news-archives/2021/10/riaan-research-initiative-funds-cockayne-syndrome-gene-replacement-therapy-research-at-umass-chan-medical-school/
RESOURCES For Brain Bee Participants:
Brain Bee questions are based on material in two books:
Brain Facts (2018) – FREE download here. https://www.brainfacts.org/the-brain-facts-book

Available as pdf, epub and MOBI files, or listen to it as an audio book through Sound Cloud.
https://soundcloud.com/user-913606992/sets/the-brain-facts-book-eighth
Neuroscience: The Science of the Brain – FREE download here. https://brain.mcmaster.ca/BrainBee/Neuroscience.Science.of.the.Brain.pdf
Additional resources:
Several resources pages for the 2021 U.S. National Brain Bee can be found by searching "NEOCOM Brain Bee" https://www.neomed.edu › wp-content › uploads
Officially released sample questions (n=15):
https://www.dental.umaryland.edu/brainbee/for-the-competitor/sample-questions/
How to prepare: Components of the USA National Bee (mimicked by most regional Bees)
https://www.dental.umaryland.edu/brainbee/for-the-competitor/study-material/
Web resources for neuroanatomy include:
2021 U.S. National Brain Bee neuroanatomy study guide
https://www.neomed.edu › wp-content › uploads
Others:
http://faculty.washington.edu/chudler/nsdivide.html
http://library.med.utah.edu/WebPath/HISTHTML/NEURANAT/NEURANCA.html http://www.getbodysmart.com/ap/nervoussystem/cns/brain/menu/menu.html