Page Menu
Women's Faculty Committee Awards
The Office of Faculty Affairs sponsors the annual Women's Faculty Committee Awards luncheon. Awards are given to outstanding faculty to recognize their contributions to UMass Chan Medical School.
*Please note: All faculty, regardless of gender, are eligible for the Mentoring Award that recognizes support of women through mentoring.
A full list of past recipients can be found here. Guidelines for nominating faculty can be found here.
2023 Award Recipients:
Early Career Achievement Award:

Athma Pai, PhD

Excellence in Clinical Service Award:

Tara Kumaraswami, MD

Outstanding Mentoring to Women Faculty Award:

Mary Munson, PhD

Sarah Stone Excellence in Education Award:

Jennifer Carey, MD

Outstanding Community Service Award:

Jill Zitzewitz, PhD

Women in Science & Health Achievements Award:

Zhiping Weng, PhD

Cassel Faculty Scholar Award:

Jennifer Bradford, MD
2022 Award Recipients:
Early Career Achievement Award:

Anna Luisa Kuhn, MD, PhD

Excellence in Clinical Service Award:

Elizabeth Keating, MS, APRN-BC

Outstanding Mentoring to Women Faculty Award:

Vivian Budnik, PhD

Sarah Stone Excellence in Education Award:

Eustathia Lela Giannaris, PhD

Outstanding Community Service Award:

Melanie Gnazzo, MD

Women in Science & Health Achievements Award:

Ann Marshak-Rothstein, PhD

Cassel Faculty Scholar Award:

Payal K. Modi, MD, MPH
2021 Award Recipients:
Early Career Achievement Award:

Laurel O'Connor, MD

Excellence in Clinical Service Award:

Katherine Callaghan, MD

Outstanding Mentoring to Women Faculty Award:

Mary Ahn, MD

Sarah Stone Excellence in Education Award:

Anne Garrison, MD

Outstanding Community Service Award:

Stephenie Lemon, PhD

Women in Science & Health Achievements Award:

Susan Swain, PhD
2020 Award Recipients:
Early Career Achievement Award:

Colleen Harrington, MD, FACC

Excellence in Clinical Service Award:

Seema Adhami, MD

Outstanding Mentoring to Women Faculty Award:

Carolynn DeBenedectis, MD

Sarah Stone Excellence in Education Award:

Suzanne Cashman, ScD

Outstanding Community Service Award:

Jennifer Bradford, MD, MPH

Women in Science & Health Achievements Award:

Anastasia Khvorova, PhD
2019 Award Recipients:
Early Career Achievement Award: Kristina Gacey, MD, MPH
Excellence in Clinical Service Award:

Jennifer Reidy, MD

Outstanding Mentoring to Women Faculty Award:

Kathleen Mazor, EdD

Sarah Stone Excellence in Education Award:

Jill Zitzewitz, PhD

Women in Science & Health Achievements Award:

Jane Freedman, MD
2018 Women's Faculty Awards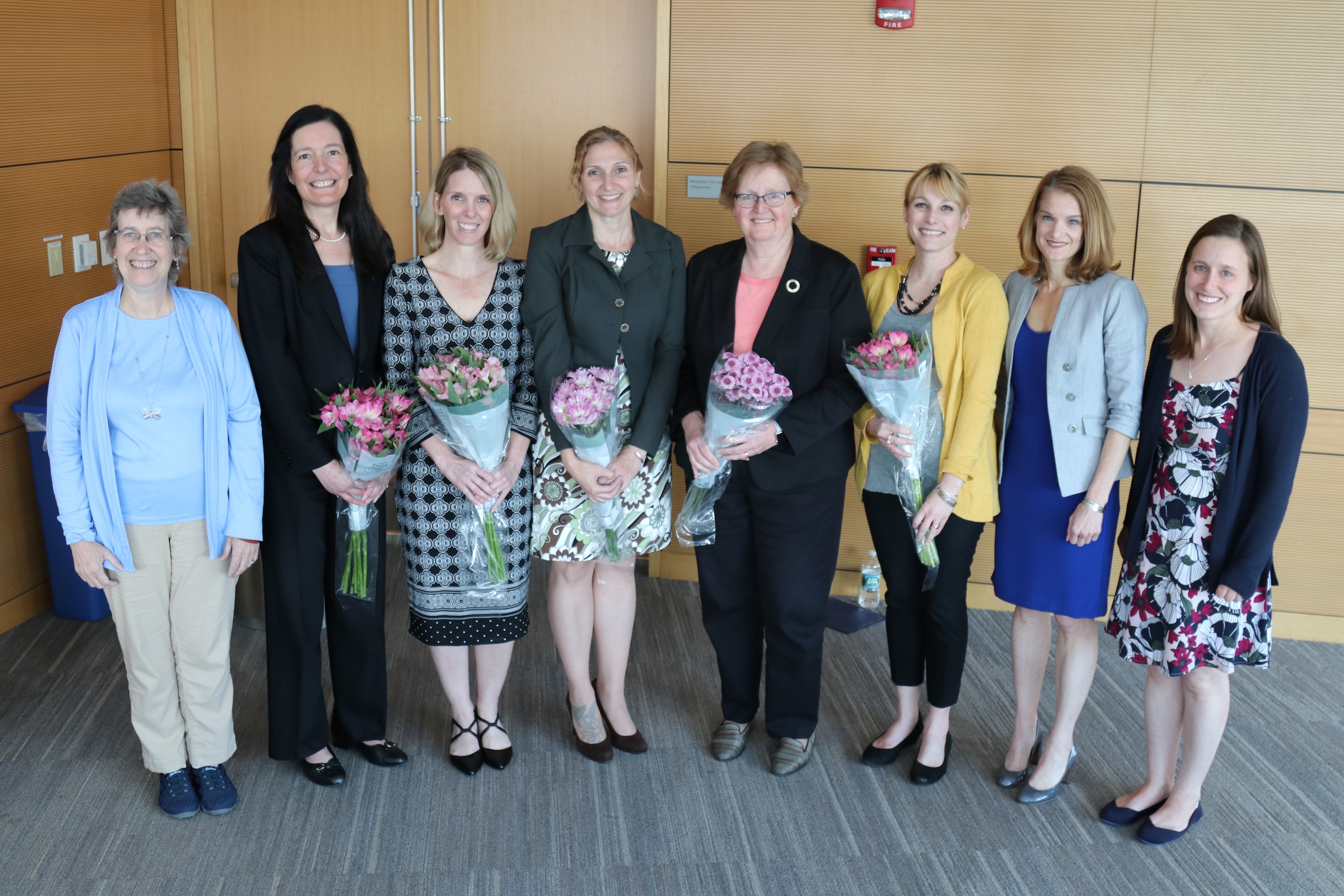 Early Career Achievement Award:

Dorothy Schafer, PhD

Excellence in Clinical Service Award:

Constance Nichols, MD

Outstanding Mentoring to Women Faculty Award:

Lori Pbert, PhD

Sarah Stone Excellence in Education Award:

Stacy Potts, MD, Med

Women in Science & Health Achievements Award:

Stephenie Lemon, PhD