Yasmin Carter Creates Female Anatomy Model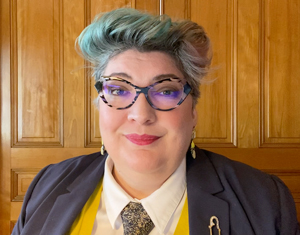 Radiology's Translational Anatomy assistant professor, Yasmin Carter, PhD, has played a lead role in designing a new three-dimensional full female model on research publishing firm Elsevier's Complete Anatomy app, the first ever on the platform. The addition of a new 3D female model to the app provides an important educational tool, one that makes clear that female anatomy is distinct.
Dr. Carter was the lead subject matter expert on the Complete Anatomy female model, a role that grew out of her work on Elsevier's virtual anatomy advisory board. Carter appears in Elsevier's video about the model and has been interviewed for the online publication Healthline and on Scripps television networks.
The Complete Anatomy app is used by more than 2.5 million registered customers worldwide. It is used in more than 350 universities globally; the Lamar Soutter Library provides access for all students.
Carter also serves as director of engagement and scholarship in UMass Chan's DRIVE initiative, which stands for Diversity, Representation and Inclusion for Value in Education, and is the spokesperson for the Vista curriculum Health Equity, Diversity and Inclusion Longitudinal Focus Topic team, supporting integration of areas historically unrepresented and underrepresented in undergraduate medical education.
Read more in an article authored by Susan Spencer for UMass Chan Medical School Communications.