AUR 2022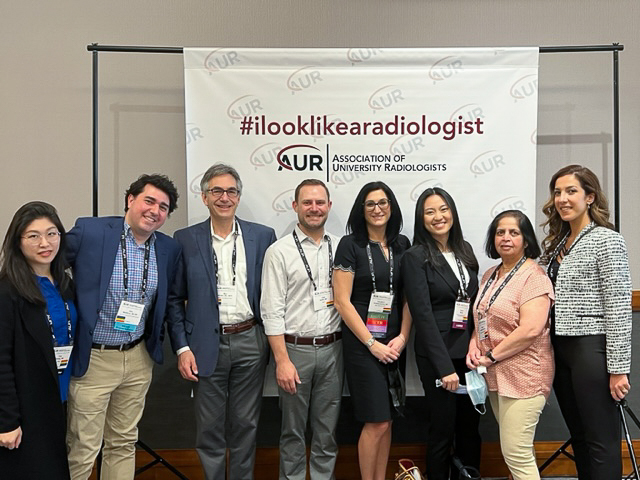 Members of the radiology department attended the 70th annual Association of University Radiologists (AUR) meeting in Phoenix AZ March 22-25. There were multiple talks and poster presentations by our UMass Chan Radiology faculty, residents and medical students.
Dr. Max Rosen gave a talk on Health Equity. Dr. Carolynn DeBenedectis presented a talk on Operationalizing Parental Leave for Trainees.
Dr. Tina Shiang presented a research poster (mentored by Dr. David Radcliffe) entitled Boosting Resident MRI Case Volumes: A Resident-Driven Restructuring of the Radiology Curricula which also won the 2022 AUR A3CR2 Research Award.
Grace Wang, 3rd year UMass Chan Medical Student, presented her research poster (mentored by Dr. Carolynn DeBenedectis) entitled Gender Differences Among 4th year US Medical Students in Specialty Decision Making.
Dr. Carolynn DeBenedectis co-authored and presented 2 research posters, one entitled Women in Radiology: Exploring an Elective Rotation Aimed at Exposing Female Medical Students to the Field of Radiology co-authored by Dr. Lauren Marcov (UMass Chan ED resident), and fellow UMass Chan Radiology attendings Drs. Carolyn Dupuis, Elisabeth Garwood, Lacey McIntosh, and Tasneem Lalani. DeBenedectis' second poster entitled Gender Trends in Interventional Radiology Residency was co-authored by Dr. Lauren Marcov (UMass Chan ED resident), Dr. Lucy Spalluto (Vanderbilt Medical Center) and Dr. Dania Daye (MGH).
Dr. Alex Newbury attended and completed the AUR Radiology Resident Academic Leadership Development Program while at the meeting. See newsletter article.