Joel Adade Summer Intern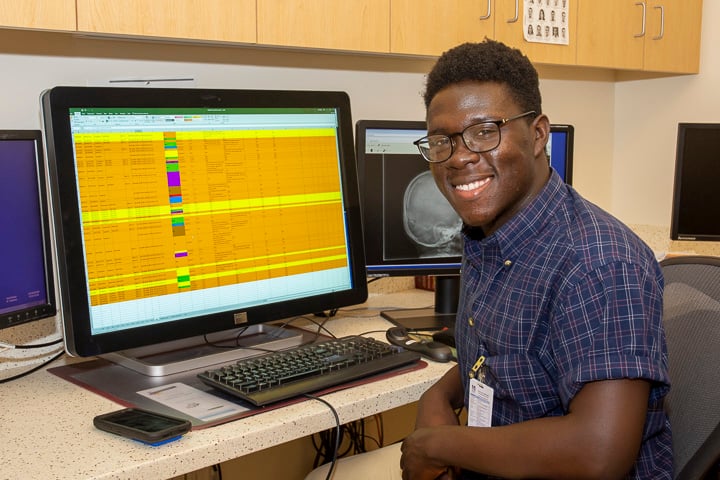 Joel Adade is a rising sophomore at Hamilton College College where he attends as a recipient of the Posse Scholarship. He is a biochemistry major on the pre-med track. Joel learned about the UMMS Radiology intern opportunity from his dance coach at The Boys & Girls Club (BGC) of Worcester. He had called her to talk about the fast approaching competition season and she told him that Dr. Rosen, was looking for high school students or recent alumni to do an internship. Joel emailed the director of the BGC his cover letter and resume and she connected him to Dr. Rosen.
Joel says, "At the beginning of the program, I split my day between Dr. Bogdanov's biochemistry lab and a clinical research project with Dr. Gauguet in pediatric radiology. The biochemistry lab exposed me to the life of researchers and biochemistry lab work. Aside from observing different projects in the lab, I worked with computer programs like Excel to analyze data, like using the absorbances of cell samples in solution to find the concentration of the solution.
With Dr. Gauguet, I am doing a retrospective research study on the skeletal surveys done on potential child abuse cases. I use Epic to extract information on the skeletal survey findings, number of non-standard/ additional scans and the noted reasoning for the survey (potential child abuse or not). I then put this information into Excel. A few factors we are paying attention to is the day of the week that the surveys are done and the number of surveys completed per year over the past 11 years."
Joel enjoyed his time spent interning with Radiology faculty and staff this summer. He looks forward to returning to Hamilton College mid-August. Thank you Joel and best wishes with your academic pursuits!