Letter from the Chair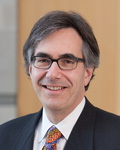 Dear All,
Welcome to our end-of-summer newsletter which features many pictures and awards from graduation in June, our new residents and fellows and news stories featuring Drs. Puri and Singh. We also profile Salman Shazeeb, PhD who has joined us as the director of our new iPAC core, Stacy Brown, PA-C and our Advanced Practice Practitioners.
As part of our departmental support for the Boys and Girls Club of Worcester, we feature Joel Adade. I hope that Joel will be the first of many interns from the Boys and Girls Club who are able to experience an introduction to careers in health care from the perspective of our department. We also continued our community engagement with Dr. Yasmin Carter's hosting of the iCELS Hackathon during which high school students explored projects to improve community health in Worcester.
With each "season" of our department it's inevitable that we also say some "good-byes" and this summer we thanked Dr. Sarwat Hussain, Ruth Lopriore and Janet Green for their years of service to our department and patients.
Finally, no summer would be complete without "Residents Night at the PawSox".
Wishing everyone a wonderful last week of summer and Labor Day weekend.
Best,
Max