Advance Practice Practitioners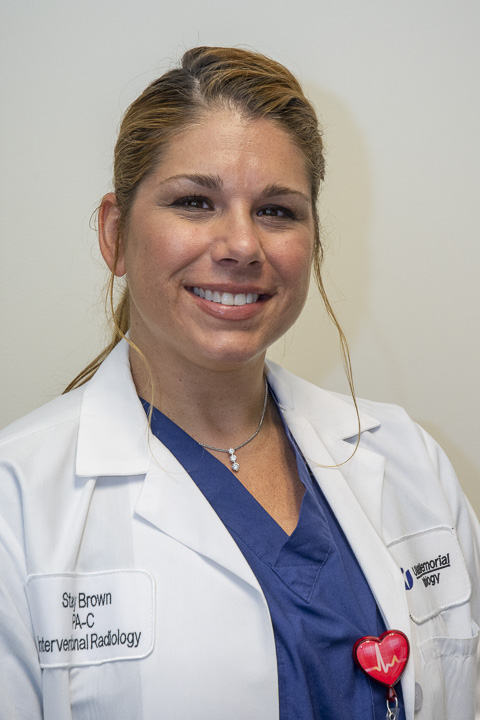 There are currently seven Advance Practice Practitioners that work as part of the Vascular and Body Interventional Radiology Team. These practitioners place and remove tunneled hemodialysis/pheresis catheters, tunneled small bore catheters, port-a-cath's and place PICC lines in the department and at the bedside. Additionally, they perform paracentesis' and FNA biopsies. At the University campus, they see a variety of outpatient consults, as well as participate in weekly HCC (Hepatocellular Carcinoma) multidisciplinary meetings. Overall, the IR department at both the University and Memorial campuses are extremely busy, performing over 5800 cases in 2018!
Assisting the APP team is Stacy Brown, PA-C, Clinical Coordinator in VIR and BIR. Stacy splits her time between both the Memorial and University campuses. After graduating as a Physician Assistant from the Massachusetts College of Pharmacy in Boston in 2004, she began working in cardiac surgery at UMass, Saint Vincent Hospital and Lahey Clinic. Ultimately, she joined the IR team in November 2017. She enjoys her new position but is hesitant to call herself a Coordinator, but prefers to serve as their "voice" within the department. She shares this position with several skilled APP's with years of experience.
Fellow Advance Practitioners are:
University Campus
Kalyn Dhroso, PA-C
Sarah Klein, NP
Vincent Prendergast, NP
Elizabeth Waldo, NP
Memorial Campus
Thea Nolan, PA-C
Walter Zawacki, NP