Spotlight on M. Salman Shazeeb, PhD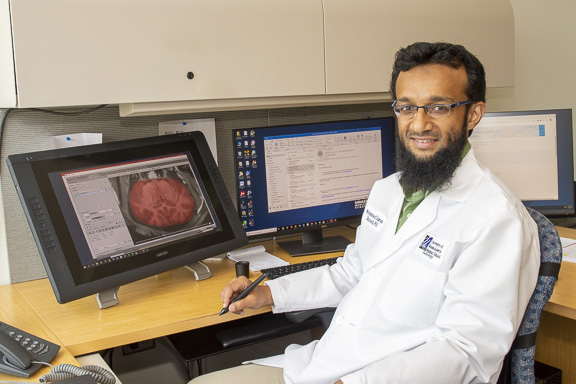 Mohammed Salman Shazeeb, PhD joined the Radiology Department in February as Director of the Image Processing and Analysis Core (iPAC) at UMMS. Dr. Shazeeb is in the Research Division of Biomedical Imaging and Bioengineering. Questions were given to Dr. Shazeeb to learn about him, his background and interests. The answers below are interesting and highlight a unique background and career.
What is the Image Processing and Analysis Core (iPAC)?
The vision of iPAC is to develop novel and existing imaging biomarkers to ameliorate disease conditions. iPAC provides image processing/analysis tools and services to help scientists and clinicians develop imaging biomarkers using different imaging modalities with the goal of:
Detecting/diagnosing diseases to enable early treatment intervention;
Tracking disease progression/regression to evaluate the medical condition, and;
Monitoring treatment effects to facilitate therapeutic mechanisms.
Some of the services provided by iPAC include:
Study design to identify useful imaging biomarkers;
Perform modeling and simulations of imaging data;
Implement imaging methods/protocols;
Perform image processing/analysis from different imaging modalities including MRI, X-ray, CT, microCT, OCT, PET, SPECT, ultrasound, microscopy, etc., and;
Prepare manuscripts/proposals in collaboration with investigators.
Tell us about your degrees and education?
BS, Biomedical Engineering (summa cum laude), Boston University
ME, Biomedical Engineering, Worcester Polytechnic Institute
PhD, Biomedical Engineering & Medical Physics, Worcester Polytechnic Institute & UMass Chan Medical School (Joint Program)
I completed my undergraduate degree in Biomedical Engineering from Boston University. After taking an imaging course in my senior year, I was hooked to the field of medical imaging. I ended up working on my senior thesis in an optical imaging lab with a cardiologist at the Beth Israel Deaconess Medical Center and Harvard Medical School (HMS). Soon after I was accepted to the Joint PhD program in Biomedical Engineering & Medical Physics at Worcester Polytechnic Institute (WPI ) & UMass Chan Medical School (UMMS) where I worked under the supervision of the Late Dr. Christopher Sotak. I was trained to do brain MRI research in rodent models of cancer and stroke. My doctoral work was primarily focused on the use of contrast agents to differentiate cellular compartments and characterize tumors in the rat brain using MRI. My initial postdoctoral work at UMMS with Dr. Alexei Bogdanov further trained me to develop novel contrast agents and study their kinetics in rodent disease models using MRI. During this time, I was also involved with Dr. Michael King's group at UMMS in developing motion correction techniques using mathematical modeling for better lesion detection in cardiac SPECT and PET studies.
My next postdoctoral research experience involved the development of MRI simulations to study the effects of brain capillary networks on MRI parameters in normal and tumorous tissue which can be applicable to the clinic. I performed this work as a Visiting Postdoc/Scientist in collaboration with Massachusetts General Hospital (MGH)/HMS (with Dr. Jayashree Kalpathy-Cramer) and UAE University (with Dr. Bashar Issa - former mentee of the Late Nobel laureate Sir Dr. Peter Mansfield). Most recently, I was a Postdoctoral Research Scientist in Translational Imaging at Sanofi in the Bioimaging Unit located at Framingham, MA, where I developed pre-clinical imaging protocols and biomarkers using different imaging modalities for different disease models to test various drugs developed by research groups like Neuroimmunology, Diabetes, and Rare Diseases.
What institution did you come from? How long were you there for before coming to UMass?
I was a Postdoctoral Research Scientist at Sanofi in Framingham, MA, for 3 years where I worked in the Translational Bioimaging group. I am also a Visiting Scientist in the Department of Radiology at Massachusetts General Hospital & Harvard Medical School (2015–present) and an Adjunct Faculty member in the Department of Biomedical Engineering at Worcester Polytechnic Institute (2011–present).
What attracted you to UMass?
Having experienced life both in academia and industry, I was looking for an intellectually stimulating position that would provide the flexibility of academia while allowing interaction with industry partners. Being a core director of the iPAC at UMMS seemed to be the perfect match for such a venture. The diversity of pre-clinical and clinical projects from all the different imaging modalities keeps the work environment quite vibrant where I must be creative to solve different types of imaging problems. Also, being in a university hospital setting, the impact of medical research is more visible in the clinic which is difficult to fathom in the industry setting where it takes a long time for a drug to make it out to the market. I am privileged to be given this opportunity to join UMMS and I would not hesitate to say that this is pretty much my dream job!
How long have you been in the medical research field and what inspired you to become a PhD?
I have been involved in the medical research field for nearly 15 years now since my senior year in college. I saw myself as an academic from the get-go since I really enjoy research and critical thinking. My mentor, the Late Dr. Christopher Sotak, was a world renown MRI scientist in his area of research and was a great inspiration for me. He was taken ill towards the end of my graduate studies and passed away soon after my graduation. I aspire to follow his example by continuing in a similar line of research work. I am sure I won't be able to fill his footsteps, but I hope to at least scratch the surface and make some useful contribution to science.
What are your Clinical/Research Interests?
In general, my research interests lie in the development of non-invasive imaging biomarkers using different medical imaging modalities with the goal of: 1) detecting and diagnosing diseases potentially at an early stage to enable early treatment intervention; 2) tracking disease progression/tissue regeneration allowing clinicians to evaluate the medical condition, and; 3.) monitoring treatment effects either via conduits for drug delivery and regenerative medicine applications or via other interventional procedures to facilitate treatment mechanisms. My primary area of research interest focuses on using MRI to study neurological diseases.
What are your Educational/Teaching interests?
I feel that teaching is the best way to learn and rejuvenate research ideas. As an Adjunct Faculty member at WPI, I have taught an image processing course multiple times to undergraduate and graduate students. I really enjoy the experience of teaching/mentoring and interaction with students. I always welcome the opportunity to teach whenever I get a chance.
Can you share your personal interests?
I am an avid soccer player. My FIFA agent friend has told me that if I were in my early twenties now, I might have had a chance to make it in the professional leagues. But I was busy pursuing my academic interests back then and have no regrets on that front. I am also a self-taught swimmer and enjoy swimming tremendously. I also have a keen interest in the linguistics of religious texts/manuscripts. I am currently pursuing these studies on my own time.
Do you have a family?
I am happily married to my wife Asmaa, who is pursuing her graduate studies at WPI in Biology & Biotechnology, and we have a wonderful almost 3-year old daughter Maryam.
Anything else you would like to add?
I love learning about new cultures and languages. Even though my fluency is primarily in English, I can also read and write in Arabic, Bengali, English, French, and Hindi. Currently, I am learning Turkish whenever I get a chance. I am hoping to pick up some other ones like German and Chinese down the line.