Yasmin Carter, PhD JFDP Graduate
Date Posted: lunes, julio 17, 2017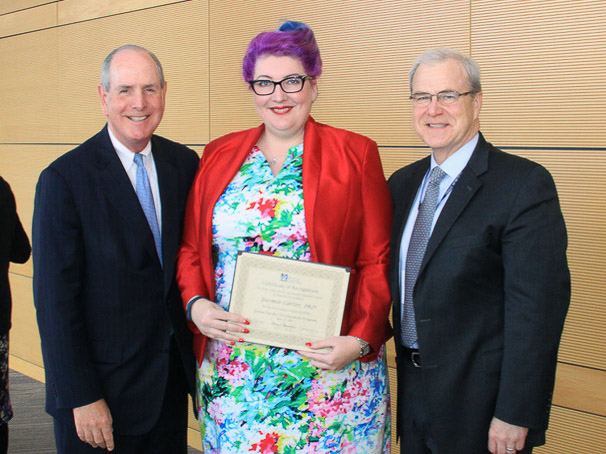 Yasmin Carter, PhD is congratulated by Chancellor Collins and Dean Flotte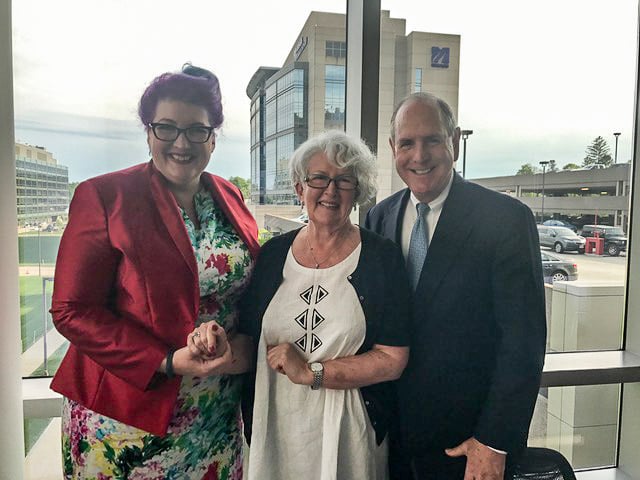 Dr. Yasmin Carter poses after the graduation presentation with her mother, Georgena Carter and Chancellor Michael Collins
Yasmin Carter, PhD, from the Division of Translational Anatomy, graduated from the Junior Faculty Development Program in May. Dr. Carter's project was The development and evaluation of a Flexible Clinical Experience (FCE) on current issues in transgender patient health care.
In the Specific Aims document for Dr. Carter's project, she states: The long-term goal of this one-week elective is not to create specialists in the field, but to graduate primary care doctors who are trans-positive, informed, and comfortable in caring for the trans community. The objective of this project is to create and test an FCE, which uses anatomy as a keystone for understanding the complex interdisciplinary concepts and issues in transgendered health care. We propose that the introduction of an FCE focused on this patient group will provide students with an outlet for discussion and increase the comfort with discussing transgender healthcare without taboo and in appropriate language, resulting in improved patient experiences for this at-risk group.
The UMMS Junior Faculty Development Program (JFDP) provides a foundation for the success of junior faculty at UMMS. The program is offered from September through May. The expected time commitment is four hours per week, including class time, preparation for sessions and work on projects.
The goals of the Junior Faculty Development Program are to:
Promote the development and advancement of faculty through a program targeted to and tailored to the specific needs of junior faculty.
Nurture and cultivate junior faculty to become the next generation of academic leaders.
Support the retention of faculty talent through opportunities and support to continuously build and expand professional skills.
The Program consists of two components:
A comprehensive curriculum in topics on research, education, clinical, and academic/career development.
A project conducted under the guidance of a senior faculty mentor. The individual project is identified by the participant, approved by their chair, and completed with the assistance of a mentor identified by the Program.
Learn more about the program on the Junior Faculty Development website