Dr.Balikian - Go the Extra Mile Award
Date Posted: lunes, julio 17, 2017
Hemang Kotecha, DO, Honored with Balikian - Go the Extra Mile Award
Hemang Kotecha, DO receives award from Dr. Jerry Balikian
Graduating Chief Resident Hemang Kotecha, DO was honored as the first recipient of the Department of Radiology's newly established award the - Dr. Balikian – Going the Extra Mile Award!
The award will be presented yearly at graduation to a 2-4th year Radiology Resident who demonstrates one or more of the following characteristics:
Outstanding patient care and communication skills
Always goes the extra mile (taking extra call, reading extra studies, etc)
Good citizenship to fellow residents
A resident can only receive the award once during their tenure at UMass. The Award is a plaque and $1,000 check. The department faculty, fellows, and residents are solicited for nominations. The education committee picks the winner from the pool of nominees.
Award Creation
This past May, the Education Committee voted to create a new award that would recognize one resident per year whom continually goes the "extra mile" in their job. It was decided that this award would be voted on by the attending physicians and the residents themselves and the Committee would make the final call based on the department votes. The award would be presented each year at the graduation ceremony. When selecting a name for the award the Education Committee unanimously agreed that Dr. Jerry Balikian is someone that truly exemplified going the extra mile in all of the years that he worked at UMass. The Jerry Balikian "Extra Mile" Award was created.

Dr. Balikian was ecstatic to hear about the honor and became one of the first contributors toward the award's endowment. The funds are managed by the Office of Advancement.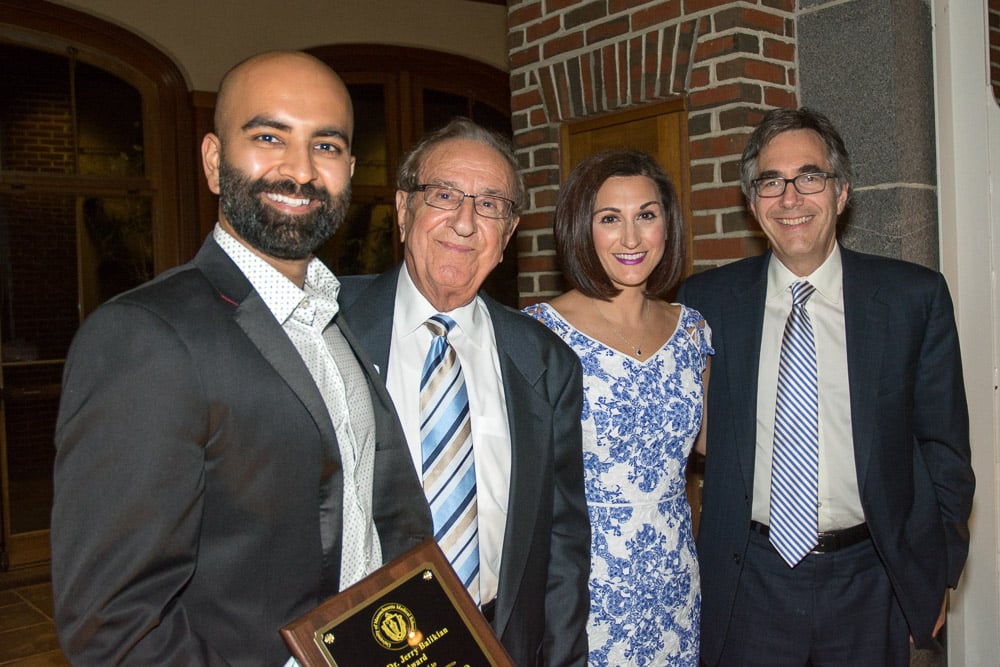 Hemang Kotecha, DO, Dr.s Jerry Balikian, Carolynn DeBenedectis, and Max Rosen