Page Menu
OWB | Wellness | EAP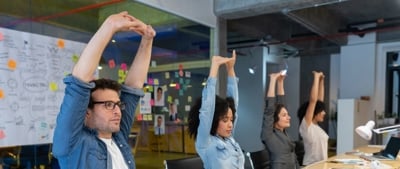 Better Health | Better Wellness | Every Day | Everyone
The Office of Well-Being (OWB) is a unique offering providing you with resources to be your best self, personally and professionally. OWB offers programs and resources to support you – individualized to best meet your needs and requests – to help you flourish as we Advance Wellness Together. OWB plays a vital role in fostering an inclusive workplace culture where diversity is celebrated, and differences are embraced.
Office of Well-Being
Supporting your emotional, physical, occupational, intellectual, social, and spiritual well-being
Employee Assistance Program
Receive confidential, free, brief solution-focused counseling and immediate in the moment emotional support. Access our Workplace Options Work-Life website for additional resources in navigating life's challenges. Free financial counseling, legal consultation. and personalized dependent care information and referral for you and your family. EAP is available to you and your adult household members 24/7.
Wellness Program
Access to unique programs dedicated to supporting and strengthening the health and wellness of our community by offering diverse resources and opportunities such as, mindfulness and movement, self-care workshops, and wellness technology integration courses. Access to a comprehensive digital wellness platform includes free lifestyle telehealth coaching visits and fitness classes.
Note: Intranet site is restricted to UMass Chan employees only.