In the Spotlight - Scott Britz-Cunningham, Author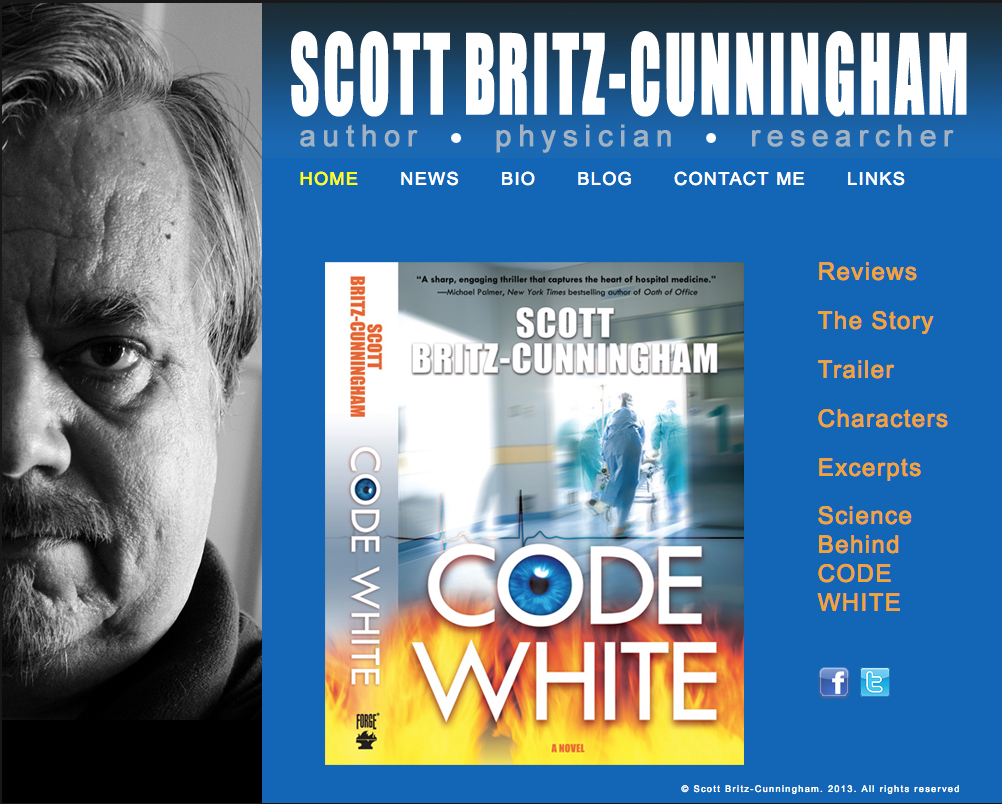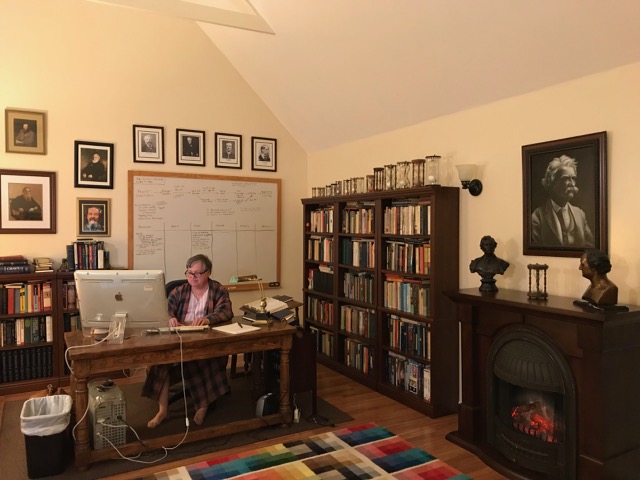 Scott Britz-Cunningham, MD, PhD, author,
in his favorite writing space - his Shed.
Scott Britz-Cunningham, MD, PhD works part-time in the Division of Nuclear Medicine but it is his other part-time work that finds him working in what he calls "The Shed" writing his next novel. Dr. Britz-Cunningham is a published author. His most recent books are medical thrillers, utilizing his expertise in medicine and hospitals. His current two novels can be found on Amazon. Code White is available in hardback, paperback and audiobook. A second book, The Immortalist is currently available only as an e-book, but he hopes to have it available in print. The publisher suggested shortening his name for The Immortalist so the author is listed as Scott Britz. The third and subsequent books will be listed under Britz-Cunningham. A third book is with publishers now. The current book Dr. Britz-Cunningham is working on is a historical thriller from 9 century BC. He states that he has a little more flexibility with imagining that period.
The front fly leaf of Code White begins with "Ali O'Day, a dedicated young neurosurgeon, might have a Nobel Prize in her future – if she can survive the next eleven hours."
With a few updates, the back cover of Code White states "Scott Britz-Cunningham, MD, PhD is the son of a police officer and a commercial artist, and was born and raised in the Chicago area. He completed postgraduate training in anatomic pathology at Beth Israel Deaconess Medical Center in Boston, and at the Harvard Medical School Joint Program in Nuclear Medicine ... Dr. Britz-Cunningham lives in Worcester, Massachusetts, with his artist wife, Evelyn. His son Alexander lives in Bangor, Maine. After a long day of reading PET scans, he likes to unwind by picking a few Scruggs-style licks on his favorite five-string banjo."
According to the bio on his website, Dr. Britz-Cunningham started writing short stories when he was 9 years old to scare the "bejeezus" out of his friends. He continued to write throughout high school and college but avoided creative writing classes. He has also invented his own language. To learn more about Dr. Britz-Cunningham visit the Bio on his website.
When he's not at UMMS reading Radiology/Nuclear Med studies picture Dr. Britz-Cunningham writing novels in his Shed, in the woods behind his house, often comfortable in his pajamas. Pick up one of his books. He says he doesn't care about the sales but would like readers.