Junior Faculty Development
David Choi, MD Graduates from Junior Faculty Development Program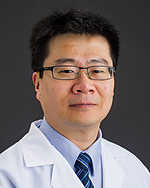 David Choi, MD, Assistant Professor in the Neuroradiology Division of Radiology, recently completed the year-long course in Early Career Development from UMass Chan Medical School.
Dr. Choi's project title was Resting State fMRI Study of Concussion in Collegiate Athletes. His program mentor was Bruce Barton, PhD, Professor of Quantitative Health.
More information can be found here.
Congratulations Dr. Choi!