Page Menu
Tobacco and Smoking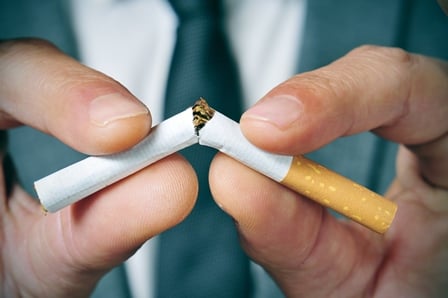 According to the Centers for Disease Control and Prevention, one in five Americans smoke, and each year, an estimated 438,000 Americans die as a result of smoking or exposure to secondhand smoke. Consequently, smoking is the leading cause of premature death in the United States. Smoking-related medical expenses and loss of productivity exceed an estimated cost of $167 billion annually.
Nicotine, a chemical component of tobacco, is a habit-forming drug that contributes to physical and psychological dependence. Cigarettes are considered the most harmful form of tobacco because cigarette smokers usually inhale deeply, but pipes, cigars and smokeless tobacco hold risks of nicotine addiction as well.
Using tobacco is a serious health hazard and has many health consequences such as, heart disease, cancer, and gum disease. Quitting may not be easy, but it can be done, and many ex-smokers have proven it! There are many resources available to help people quit smoking successfully, including the Life After Cigarettes pamphlet from the MA Quitline at www.trytostop.org. Some people are able to quit smoking cold turkey without assistance. However, many people need assistance to quit, which may involve over the counter medication, prescription medication, counseling, or support groups.
It isn't important how you quit. What's important is making the decision to stop smoking! The EAP now offers confidential, free assistance, including counseling, education and support, for employees who want to stop smoking. Call the EAP at 1-800-322-5327 to get started!
Vaping information:
The New Look of Nicotine Addiction
Frequently Asked Questions About Vaping
Tips for Talking with Your Kids About Vaping
Here are some internet resources that can help:
Tobacco Cessation Assistance
Quit Smoking for the New Year
American Cancer Society
American Heart Association
American Lung Association
CDC Quit Smoking Information
Help Guide
Mass Quit Line
Medline Plus
National Cancer Institute
National Institutes of Health
Nicotine Anonymous
Quitnet.com
Smokefree.gov