Page Menu
Services
Our Center is providing services to translational researchers and community organizations in Central Massachusetts. The SPRC has three service areas:
Special Population Consultation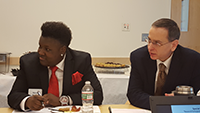 UMMS faculty and community members and organizations provide support to translational researchers on how to improve recruitment and retention strategies as part of their research design.
Cultural Competency Training


Led by a partnership with the UMMS interprofessional Center for Experiential Learning and Simulation (iCELS), the Cultural Competency Training service area builds from an existing 1-year research project, Simulation-based Intervention to Increase Culturally Appropriate Delivery of Informed Consent (SCRIIPTT). iCELS is a state-of-the art facility with technology to implement simulation-based training for medical students and clinical faculty at UMMS on various skill and knowledge competencies. The SCRIIPTT project engages community members to train research staff on implementing culturally appropriate approaches during the informed consent process.
Community and Patient Participation


To promote research literacy, UMMS faculty and community members will host research-focused events at partnering community organizations to encourage dialogue between community members and academics; strengthen local capacity to respond to critical research needs; and support participation in research at UMMS.