Page Menu
2014 News
DECEMBER 16, 2014 Phillip D. Zamore, Ph.D., co-director of the RNA Therapeutics Institute, was elected to NAI Fellow status. Election to the National Academy of Inventors Fellow status is a high professional distinction accorded to academic inventors who demonstrated a highly prolific spirit of innovation in creating or facilitating outstanding inventions that have made a tangible impact on the quality of life, economic development, and the welfare of society. For details, please click here.
DECEMBER 12, 2014, New publication An Optimized Kit-free Method for Making Strand-specific Deep Sequencing Libraries From RNA Fragments. Heyer EE, Ozadam H, Ricci EP, Cenik C, and Moore MJ. Nucleic Acids Res. published 12 December 2014, 10.1093/nar/gku1235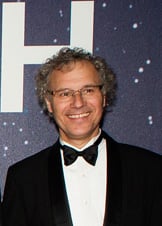 NOVEMBER 12, 2014 Victor Ambros, Ph.D., co-director of the RNA Therapeutics Institute, won the 2015 Breakthrough Prize in Life Sciences. Victor Ambros and his long-time collaborator Gary Ruvkun, Massachusetts General Hospital, and Harvard Medical School, have each been awarded a 2015 Breakthrough Prize in Life Sciences for their co-discovery of a class of tiny RNA molecules that inhibit translation or destabilize complementary mRNA targets. Each received a $3 million award. The Breakthrough Prize in Life Sciences honors transformative advances toward understanding living systems and extending human life.
OCTOBER 29, 2014 Craig Mello, Ph.D., co-director of the RNA Therapeutics Institute, talks about the need for the region's life sciences industry to work together in Worcester Telegram & Gazette.
OCTOBER 17, 2014, New publication piPipes: a set of pipelines for piRNA and transposon analysis via small RNA-seq, RNA-seq, degradome- and CAGE-seq, ChIP-seq and genomic DNA sequencing. Han, BW, Wang, W, Zamore, PD, and Weng, Z. Bioinformatics. published 17 October 2014, 10.1093/bioinformatics/btu647
OCTOBER 16, 2014, Juahdi Monbo won 2014 ASCB MAC Travel Award. Juahdi Monbo, a graduate student in David Grunwald's lab, has been selected to receive a MAC Travel Award to attend the ASCB/IFCB Meeting in Philadelphia, PA, December 6-10. For details, please click here.
SEPTEMBER 19, 2014 Phillip D. Zamore, Ph.D., co-director of the RNA Therapeutics Institute, was recently featured on Nature Biotechnology. The journal interviewed him for his experience of starting up Alnylam and Voyager, two biotech companies using RNAi and gene therapy, and his insight on the commercialization of RNAi. For details, click here.
SEPTEMBER 2, 2014, New publications Small RNA Combination Therapy for Lung Cancer. Xue W, Dahlman JE, Tammela T, Khan OF, Sood S, Dave A, Cai W, Chirino LM, Yang GR, Bronson R, Crowley DG, Sahay G, Schroeder A, Langer R, Anderson DG, Jacks T. Proc Natl Acad Sci U S A. 2014 Aug 26;111(34):E3553-61. doi: 10.1073/pnas.1412686111. Epub 2014 Aug 11. CRISPR-mediated direct mutation of cancer genes in the mouse liver. Xue W, Chen S, Yin H, Tammela T, Papagiannakopoulos T, Joshi NS, Cai W, Yang G, Bronson R, Crowley DG, Zhang F, Anderson DG, Sharp PA, Jacks T. Nature. 2014 Oct 16;514(7522):380-4. doi: 10.1038/nature13589. Epub 2014 Aug 6. PMID:25119044
SEPTEMBER 1, 2014, New publication Circulating microRNA profiles in human patients with acetaminophen hepatotoxicity or ischemic hepatitis. Ward J, Kanchagar C, Veksler-Lublinsky I, Lee RC, McGill MR, Jaeschke H, Curry SC, Ambros VR. Proc Natl Acad Sci U S A. 2014 Aug 19;111(33):12169-74. doi: 10.1073/pnas.1412608111. Epub 2014 Aug 4.


SEPTEMBER 1, 2014 Wen Xue Ph.D. joins RTI Dr. Wen Xue will be joining us here in the RTI as an Assistant Professor. Wen earned his Ph.D. with Scott Lowe at the Cold Spring Harbor Laboratories and did post-doctoral studies with Tyler Jacks at MIT. Wen studies the role of microRNAs in cancer using mouse models. He has just received an R00 award from the NIH! The R00 program supports young investigators as they transition from post-doc to independent faculty.
AUGUST 26, 2014 Dr. Heng-Chi Lee, a post-doc in the Mello lab, has received a K99 award from the NIH. The K99 grant is the post-doctoral component of the K99/R00 program and supports the post-doctoral studies of talented young scientists as they work toward independence.
AUGUST 25, 2014 Dr. Anastasia Khvorova received a four-year award from NIH/NIGMS to study the "Inter and intra-cellular trafficking pathways for natural and therapeutic RNAs", with co-investigators Victor Ambros, Sylvia Corvera, and Kevin Fogarty. The project will use a combination of RNA medicinal chemistry, TIRF microscopy and quantitative mass-spectrometry to map uptake pathways for different classes of therapeutic oligonucleotides, identify and characterize mechanism of small regulatory RNS cell and transfer, and deliver the conceptual framework necessary to generate novel RNS chemistries that exploit natural uptake mechanisms leading to transformational improvements in oligonucleotide therapeutics field.
AUGUST 15, 2014, New publication SPO24 is a transcriptionally dynamic, small ORF-encoding locus required for efficient sporulation in Saccharomyces cerevisiae. Hurtado S, Kim Guisbert KS, Sontheimer EJ. PLoS One. 2014 Aug 15;9(8):e105058. doi: 10.1371/journal.pone.0105058. eCollection 2014. PMID: 25127041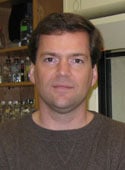 JULY 31, 2014 Erik Sontheimer Ph.D. joins RTI Dr. Erik Sontheimer joins us from Northwestern University. The Sontheimer laboratory focuses on the roles of RNA molecules in gene expression, with an emphasis on genetic interference pathways. Using biochemical approaches to characterize the function of the RNAi machinery, Dr. Sontheimer's research has yielded fundamental insights into the biochemical mechanism of RNAi and the pathway by which the RNAi machinery assembles on a double-stranded RNA. His research has recently expanded into a distinct interference pathway specified by CRISPR loci that limit the spread of antibiotic resistance in pathogenic bacteria.
JULY 23, 2014, New publication An efficient and sensitive method for preparing cDNA libraries from scarce biological samples. Catherine H. Sterling, Isana Veksler-Lublinksy, and Victor Ambros Nucleic Acids Res. published 23 July 2014, 10.1093/nar/gku637

JULY 2, 2014 Two RNA Therapeutics Institute faculties won the 2014 UMass Life Science Moment Fund (LSMF) in one day. Anastasia Khvorova, Ph.D., with project "Ex vivo RNAi-based therapy for modulating T cell response as a novel treatment for Graft-vs-Host Disease", and Neil Aronin, Ph.D., in conjunction with Dr. Michael Brodsky (Program in Gene Function and Expression) and Dr. Gregory Tew (UMass Amherst), with project "CRISPR- Cas9-derived Nucleases and PTDMs for Huntingtin Disease Treatment", were selected for funding by the 2014 UMass Life Science Moment Fund (LSMF). The two projects will bring together investigators from both the Worcester and Amherst campuses.
JUNE 27, 2014 Craig C. Mello, Ph.D., Nobel Laureate and co-director of the RNA Therapeutics Institute, talks to National Public Radio about the exciting future of CRISPR. He believes medical applications using the genome-engineering tool known as CRISPR are possible in the near future, he said in an interview with National Public Radio science reporter Joe Palca. For details, click here.
JUNE 25, 2014, New publication A single vertebrate DNA virus protein disarms invertebrate immunity to RNA virus infection. Don B Gammon, Sophie Duraffour, Daniel K Rozelle, Heidi Hehnly, Rita Sharma, Michael E Sparks, Cara C West, Ying Chen, James J Moresco, Graciela Andrei, John C Connor, Darryl Conte, Dawn E Gundersen-Rindal, William L Marshall, John Yates, Neal Silverman, and Craig C Mello eLife Sci. published 25 June 2014, 10.7554/eLife.02910
JUNE 17, 2014 Victor R. Ambros, PhD, the Silverman Chair In Natural Sciences and co-director of the RNA Therapeutics Institute, has been awarded the 2014 Gruber Genetics Prize. Dr. Ambros, along with long time collaborator Gary Ruvkun, PhD, professor of genetics at Massachusetts General Hospital and Harvard Medical School, and David Baulcombe, PhD, professor of botany at the University of Cambridge, received the prize for their pioneering discoveries of the existence and function of microRNAs and small interfering RNAs, molecules that are now known to play a critical role in gene expression. Please join us in congratulating him on this tremendous honor! For details, click here.
JUNE 11, 2014, New publication Structural mechanism is revealed of how the messenger RNA of Taura syndrome virus hijacks host ribosomes using structured RNA, called internal ribosome entry site (IRES). Koh, C. S., Brilot, A. F., Grigorieff, N., & Korostelev, A. A. (2014). Taura syndrome virus IRES initiates translation by binding its tRNA-mRNA–like structural element in the ribosomal decoding center. Proceedings of the National Academy of Sciences. doi:10.1073/pnas.1406335111
JUNE 10, 2014 David Grunwald, Ph.D., Assistant Professor of RNA Therapeutics Institute won Faculty Scholar Award (FSA). The Faculty Scholar Award was created by the UMass Chan Women's Faculty Committee and the Women's Leadership Work Group and is funded jointly by UMass Chan and UMMHC to assist faculty during a finite period of increased family care responsibilities. Dr. Grunwald was selected as a recipient of the award for June 2014 due to the innovation and technical challenges of his project across many disciplines.
JUNE 4, 2014 Anastasia Khvorova, Ph.D., Professor of RNA Therapeutics Institute, is featured in Exiqon Application stories. Khvorova lab focuses on the development of novel oligonucleotide-based therapeutics, as well as ways to improve delivery and tissue distribution for neurodegenerative diseases. Her lab has been using LNA™ GapmeRs to successfully silence two different genes, which are valid therapeutic targets for neurodegenerative diseases, both in vitro and in vivo mouse and rat animal models.
MAY 30, 2014, New publication A Co-CRISPR Strategy for Efficient Genome Editing in Caenorhabditis elegans. Heesun Kim, Takao Ishidate, Krishna S. Ghanta, Meetu Seth, Darryl Conte, Jr., Masaki Shirayama, and Craig C. Mello Genetics. published 30 May 2014, 10.1534/genetics.114.166389
APRIL 8, 2014, New publication The Vasa Homolog RDE-12 Engages Target mRNA and Multiple Argonaute Proteins to Promote RNAi in C. elegans. Masaki Shirayama, William Stanney III, Weifeng Gu, Meetu Seth, Craig C. Mello Curr Biol. 2014 Mar 26. pii: S0960-9822(14)00267-X. doi: 10.1016/j.cub.2014.03.008. [Epub ahead of print].
APRIL 7, 2014 Gang Han, Ph.D., RTI affiliated faculty, was awarded the 2014 Young Investigator's Grant from Human Frontier Science Program. The HFSP supports novel, innovative and interdisciplinary basic research focused on the complex mechanisms of living organisms. The grant will support Han lab's project on "Wireless optogenetic interrogation of non-image forming photoreceptor function by Nano-antennae" for three years and about $900,000 in total.
MARCH 14,2014 Melissa Moore Ph.D. and Anastasia Khvorova Ph.D. are among the founders of MassTERi. The Massachusetts Therapeutic and Entrepreneurial Realization Initiative (MassTERi), is a faculty-led initiative that will build upon existing efforts at the UMass Center for Clinical and Translational Science (UMCCTS) and other university organizations to support scientists who are interested in advancing the development of small molecule drugs and in commercializing their innovation. More...
MARCH 14, 2014 Colin Conine, the Ph.D. candidate in Dr. Craig Mello's lab, has been awarded the 2014 Harold M. Weintraub Graduate Student Award. This prestigious award is sponsored by the Basic Sciences Division of Fred Hutchinson Cancer Research Center. Nominations were solicited internationally; the winners were selected on the basis of the quality, originality, and significance of their work. More…
FEBRUARY 25, 2014 Jeremy Luban, MD, David L. Freelander Memorial Professor in HIV/AIDS Research and RNA Therapeutics Institute affiliated faculty, has been elected fellow of the American Academy of Microbiology for his scientific achievement and original contributions to the field of microbiology. More...

FEBRUARY 18, 2014 Phillip Zamore, Ph.D., is a co-principal investigator of a Broadening Experience in Scientific Training (BEST) grant from the NIH. UMass is the first group of 10 graduate schools nationwide to be awarded. With the grant, Zamore and Cynthia Fuhrmann, PhD, assistant dean of professional and career development for the Morningside Graduate School of Biomedical Sciences, will implement "An Integrated Curriculum and Community-Based Approach to Career Development" which will guide students and postdocs to create and implement a strategic plan for building the skills and experience needed to reach their career objectives.
FEBRUARY 12, 2014 Phillip D. Zamore, Ph.D., co-director of the RNA Therapeutics Institute, and Guangping Gao, Ph.D., director of the Gene Therapy Center and RTI affiliated faculty, are among the four world leaders in the fields of AAV gene therapy, RNA biology and neuroscience to launch Voyager Therapeutics today. Voyager Therapeutics is a gene therapy company to develop life-changing treatments for fatal and debilitating diseases of the central nervous system (CNS).
FEBRUARY 6, 2014 Kelly Limoncelli received Ruth L. Kirschstein National Research Service Awards (NRSA) for Individual Predoctoral Fellows from NIH. Kelly Limoncell, a graduate student in Melissa Moore's lab, will receive up to 4 years of support, which covers stipend, tuition, fees, supplies, and scientific meeting expenses. The purpose of this training fellowship is to provide support for promising doctoral candidates who will be performing dissertation research and training in scientific health-related fields relevant to the missions of the participating NIH Institutes and Centers (ICs) during the tenure of the award. Her project title is "Investigating the functional roles of RPS3 in RNA and DNA damage". For details, click here.
FEBRUARY 3, 2014 New publication Inorganic phosphate blocks binding of pre-miRNA to Dicer-2 via its PAZ domain Ryuya Fukunaga, Cansu Colpan, Bo W Han, and Phillip D Zamore EMBO J. published 31 January 2014, 10.1002/embj.201387176 [Abstract].

JANUARY 21, 2014 Victor R. Ambros is awarded the prestigious Wolf Prize in Medicine for the discovery of the micro- RNA molecules that play a key role in controlling gene expression in natural processes and disease development. For details, click here.
JANUARY 17, 2014 New publication Endogenous U2·U5·U6 snRNA complexes in S. pombe are intron lariat spliceosomes Weijun Chen, Hennady P. Shulha, Ami Ashar-Patel, Jing Yan, Karin M. Green, Charles C. Query, Nick Rhind, Zhiping Weng, and Melissa J. Moore RNA. published 17 January 2014, 10.1261/rna.040980.113 [Abstract].