Two UMMS students take home prestigious Weintraub Award
Life sciences award given to just 13 graduate students nationwide on the basis of quality, originality and significance of work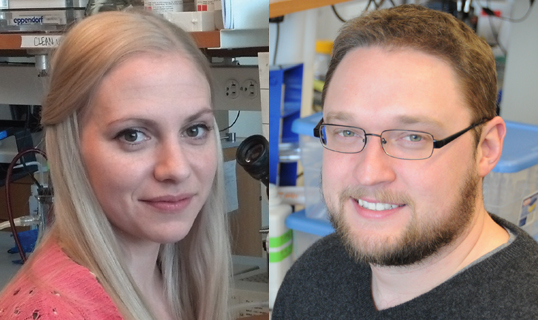 Graduate School of Biomedical Sciences students Emma Watson and Colin Conine have received the 2014 Harold M. Weintraub Graduate Student Award for research into the mechanisms governing epigenetic inheritance and the complex interactions between diet, gene expression and physiology.
Graduate School of Biomedical Sciences students Colin Conine and Emma Watson received the 2014 Harold M. Weintraub Graduate Student Award for research into the mechanisms governing epigenetic inheritance and the complex interactions between diet, gene expression and physiology. Only 13 students from North America were chosen for the prestigious award, sponsored by the Basic Sciences Division of the Fred Hutchinson Cancer Research Center. UMass Medical School was one of only two institutions to have more than one winner this year.
"I'm happy that both Colin and I won the award this year. I think it's a testament to the strong community of C. elegans biologists here at UMass Medical School, with whom we have both trained," said Watson, a doctoral candidate in the Program in Systems Biology. "We use the roundworm C. elegans to explore basic biological processes and find new angles of attack for human disease. C. elegans was the perfect model for me to study the genetic underpinnings that link diet and physiology. Its metabolic network and nutritional requirements are surprisingly a lot like ours, despite being a soil-dwelling nematode that eats bacteria all day long!"
Watson is working in the lab of Marian Walhout, PhD, co-director of the Program in Systems Biology and professor of molecular medicine.
"Emma is an outstanding graduate student who fully deserves this award," said Dr. Walhout. "It is a pleasure to work with her. She is hard working, smart, fun and has vision. If she sets the bar, it is very high!"
Conine is studying in the lab of 2006 Nobel Laureate Craig C. Mello, PhD.
"There is still so much we don't understand about inheritance. Genetics and DNA don't explain everything," said Conine, a doctoral candidate in molecular biology and genetics. "Epigenetic inheritance of RNA provides a new way of looking at how information is passed from generation to generation that could help us explain disease causes that have eluded DNA studies."
"The Weintraub Award is the Nobel of thesis awards," said Dr. Mello, Howard Hughes Medical Institute Investigator, the Blais University Chair in Molecular Medicine and distinguished professor of molecular medicine and cell biology. "It is a huge honor and a deserving award for Colin, who has a wonderful blend of curiosity and tenacity that has allowed him to tackle difficult problems. Colin has a rare attribute as a scientist to make connections that others miss. I expect great things from Colin and have no doubt that he will go on to become a leading independent researcher."
Conine and Watson join a distinguished group of previous UMMS students to receive the Weintraub award. Past winners include Pedro Batista, PhD, and Chengjian Li, PhD, in 2010; Marcus Noyes, PhD, in 2009; Diane Schwarz, PhD, in 2005; and Alla Grishok, PhD, who received the award in 2002 after graduating from the GSBS in 2001. The Weintraub award recognizes the best graduate students in the life sciences in the nation and world on the basis of the quality, originality and significance of their work.
Watson focuses her research on understanding the effects of diet on the genome, and how this relates to physiology. Using C. elegans and its bacterial diet, Watson developed a novel interspecies model that allows these questions to be addressed systemically. With this new systems biology model, she found that worms fed a diet of vitamin-B12-synthesizing bacteria exhibit altered gene expression and accelerated development compared to worms fed bacteria that cannot synthesize vitamin B12. Watson also found that worms rewire their metabolic network according to B12 availability, especially with regard to propionic acid metabolism, which depends on this essential vitamin and can cause a buildup of toxic metabolites under B12 deficiency.
Conine's doctoral research thesis explores mechanisms through which epigenetic (genetic information outside the genome) information is passed from parent to offspring. Conine has showed that Argonautes, proteins involved in the gene silencing phenomenon known as RNA interference, function with small RNAs to promote the positive expression of genes in sperm. Discovery of this novel role for the Argonaute pathway is the most extensive biological mechanism identified that explains how sperm function to ensure that progeny robustly express genes that were expressed paternally during the preceding life cycle. Conine's work reveals a new, breathtaking scope for epigenetic programming that helps to explain how biological information passes directly from father to offspring.
"I knew if I wanted to study RNA biology that UMass Medical School was the place," Conine said. "Thanks to the collaborative and open nature of the faculty, I've been encouraged to pursue new and innovative ideas at the forefront of our understanding of RNA biology and epigenetics."
The Weintraub award, established in 2000, honors the late Harold "Hal" M. Weintraub, PhD, a founding member of Fred Hutchinson's Basic Sciences Division, who died of brain cancer in 1995 at age 49. Weintraub was an international leader in the field of molecular biology. Among his many contributions, he identified genes responsible for instructing cells to differentiate, or develop, into specific tissues such as muscle or bone. The award honors Weintraub and his enthusiastic support of colleagues, students and young scientists.
Conine and Watson will participate in a scientific symposium on May 2 at Fred Hutchinson Cancer Research Center in Seattle.