Page Menu
Ambulatory Training
The UMass Chan Medical School and UMass Memorial Health have legacies of valuing Primary Care as the core of a patient's health care experience. Each categorical resident will be assigned a continuity clinic site, where they will become a valued member of a health care team and co-manage a panel of patients. Residents attend continuity clinic during their Ambulatory weeks, but not during inpatient or ICU service weeks. In our 4+1 system, we are able to separate inpatient and outpatient responsibilities, allowing for a more concentrated and enjoyable experience in each environment.
Ambulatory Week
After 4 weeks on an inpatient, ICU, or elective rotation, all interns (preliminary and categorical) and residents are on Ambulatory week.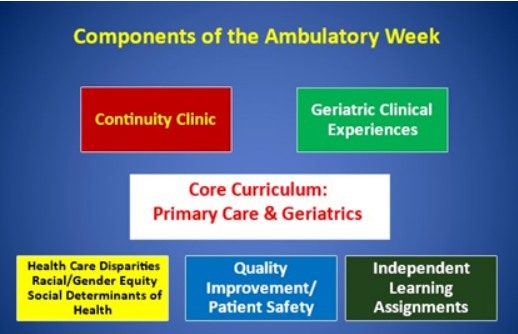 During ambulatory week, categorical interns and residents will have:
5 Continuity Clinic sessions

1 morning of Didactic/Ambulatory Core Curriculum sessions

"Golden Weekend" off

2-4 Independent learning sessions ("Green Blocks") to complete:

Clinic documentation and lab/radiology follow up

Independent online learning modules

Longitudinal Quality Improvement Project

Scholarly Activity

Attend personal appointments
During ambulatory week, preliminary interns will have:
4 days of elective of resident's choice

1 morning of Didactic/Ambulatory Core Curriculum sessions

"Golden Weekend" off

1 independent learning session ("Green Block") to complete:




Independent online learning modules

Longitudinal Quality Improvement Project

Scholarly activity

Attend personal appointments
Ambulatory Core Curriculum -

Jeeva Subramanian, MD



Thursday Morning academic half-day sessions are held for all Ambulatory Week Residents. A three-year revolving curriculum includes Primary Care Core Curriculum (Prevention/Screening, Acute Care, Chronic Care), Geriatrics Core Curriculum, Quality Improvement, Medical Specialty Curriculum, High-Value Care, Health Care Disparities, and Evidence-Based Medicine. A variety of teaching formats are used including traditional didactic lectures, case-based, MKSAP embedded questions, Medical Jeopardy, flipped-classroom, and workshop format. Independent Online Modules are assigned to supplement curriculum not delivered live. All schedules and curriculum are housed on a Google Site to provide mobile access for our residents. 
Geriatrics Training - Erika Zimmons, DO
In addition to the 3-year Geriatrics Core Curriculum delivered during Ambulatory weeks, residents have assigned Podcasts to supplement their education. Our trainees have a robust Geriatrics clinical experience as well. During PGY1, residents rotate through area Skilled Nursing Facilities with our Geriatrics faculty members. During PGY2, they rotate in the Geriatrics Clinic where they participate in consultative and chronic care of elderly patients. During their PGY3 year, each resident does a home visit on one of their own geriatric clinic patients and also makes emergency home visits with Elder Protective Services. Residents are required to participate in a 1-week Palliative Care Elective in PGY2 or PGY3 year and participate in a Goals of Care simulation during PGY2 year.
Continuity Clinic Sites
Benedict Adult Primary Care Clinic –Site Directors: Richard Palken, MD & Jeeva Subramanian, MD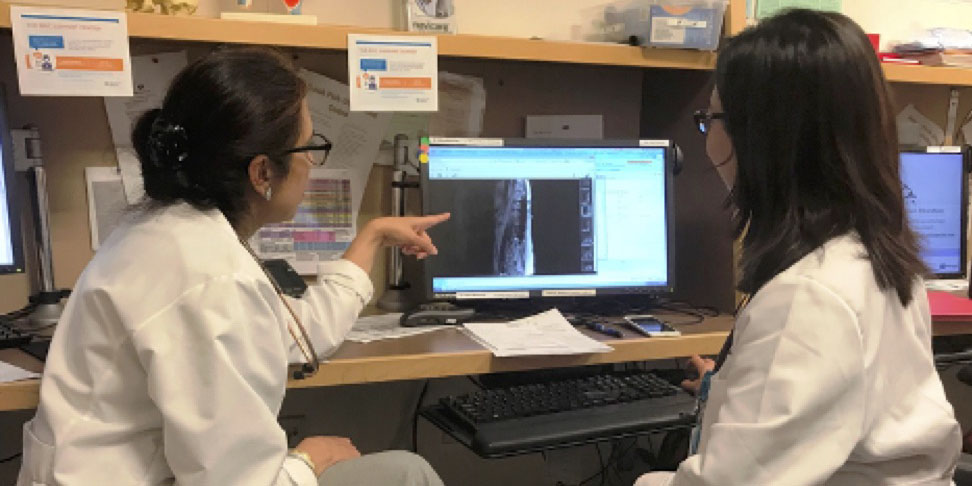 The Benedict Primary Care Clinic, located on the University Campus, is the largest ambulatory clinic supporting outpatient residency training. More than one-third of our residents train at this academic site. The clinic serves a very large, diverse, and medically complex patient population. Residents are paired with experienced faculty members (primary preceptors) for their 3 years of training. Residents have their own panel of patients that are co-managed with faculty primary preceptor. This close pairing promotes continuity of care for patients as well as education and mentoring opportunities for residents.
Tri-River Family Health Center - Site Director: Andrew Siber, MD
Tri-River Family Health Center (TRFHC) is a UMass Memorial multi-specialty clinic located in Uxbridge, Massachusetts approximately 30 minutes from Worcester. Founded in 1978, TRFHC has become a paradigm for fulfilling the respective interests of medical education and community health care. The Internal Medicine Department is staffed by 8 Board-certified UMass faculty, many of whom are graduates of the UMass Internal Medicine Residency Program. The clinic serves as a training site for both residents and medical students. UMass medical students from all four classes participate in TRFHC programs, and 20 medical residents have their continuity clinic at TRFHC.
Worcester VA Clinic - Site Director: Radhika Koneru, MD
The Worcester VA Clinic provides comprehensive outpatient care for veterans. It is situated in a modern facility 5 minutes from UMass Memorial Medical Center. On-site services include radiology, laboratory, physical therapy, mental health, pharmacy, and many medical subspecialties. State-of-the-art medical informatics services and infrastructure greatly facilitate the care of the patient and enrich the experience of staff and residents. With the support of full-time VA faculty, nine residents are the primary care providers for their panels of patients. A brand new VA Clinic opened in the fall of 2021!
Community-Based Faculty Sites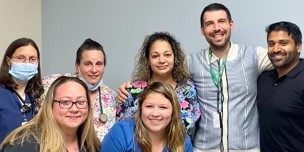 A variety of community-based practices participate in ambulatory education and are among our most popular sites. Each site generally accommodates 1-2 residents and offers a patient population reflective of those encountered in the private practice setting. Driving distances vary from 10 to 40 minutes. Residents may choose a clinic site convenient to where they live. The preceptors at each site have been chosen for their strong commitment to medical education.