Page Menu
Clinics
Benedict Adult Primary Care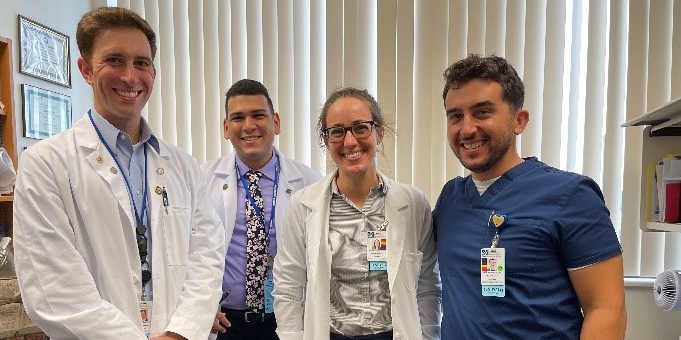 Located on the UMass Chan Medical School and UMass Memorial Health-University Campus, the Benedict Adult Primary Care Clinic is our flagship academic ambulatory clinic and serves as the primary training site for our primary care residents. This clinic has a staff of more than 30 faculty, 7 advanced practitioners, 31 residents, and many interprofessionals, who care for a socioeconomically, racially, and culturally diverse panel of more than 20,000 patients. Nearly 45,000 in-person and telehealth visits occur annually. The clinic offers onsite consultative Psychiatry, Health Psychology, Rheumatology, and Dermatology services. Our location within the hospital also provides access to urgent imaging and full laboratory services.
All primary care residents, as well as about a third of our categorical residents, train at Benedict. Residents are paired with a primary faculty preceptor with whom they develop a longitudinal teaching and mentoring relationship. Our residents also precept with primary care core faculty and other experienced clinician-educators. The resident and primary preceptor co-manage a panel of patients such that the resident is listed in the electronic medical record as Primary PCP and the Preceptor as Academic PCP. Since COVID-19, all providers, including residents, have been using telehealth for some patient encounters.
Second Sites
Starting in their PGY2 year, Primary Care residents choose a longitudinal clinical experience at a second Primary Care site. This allows residents to experience different practice models and patient panels. Second sites may include but are not limited to private practice sites, Tri-River Family Health Center, Community Medical Group practices, the Worcester-VA, or Reliant Medical Group.
Inpatient
As we are a track within the established UMass Chan Internal Medicine Categorical program, our residents benefit from the thorough inpatient clinical training for which this program has been known for nearly 50 years. Residents will train at multiple hospital sites. The University Campus site is an academic tertiary care center with inpatient ward teams in general and subspecialty care, two Medical Intensive Care Units (MICU), a Coronary Care Unit (CCU), cardiac stepdown unit, and a high-volume emergency department. Residents also train at the nearby Memorial Campus and Milford Regional Medical Center for community hospital experience. In all inpatient rotations, residents work closely with faculty, allied health professionals, and medical students. While well prepared for a career with a primary care focus, our residents are also fully equipped to care for patients across the spectrum of illness.